What does being credible on LinkedIn mean to you?
Does it mean being an expert in your field? Does it mean having an extensive network of connections? Or does it simply mean having a strong LinkedIn profile that accurately reflects your professional brand?
Credibility is the quality or power of inspiring belief. It's the ability to gain trust and confidence from others. And when it comes to LinkedIn, credibility is everything.
Want to show up on your lead's LinkedIn search or feed? Inspire action? Get qualified traffic that turned into sales and revenue?
Then, you'll need to show up as an expert in your field.
Growing Credibility on LinkedIn: Is It Too Late?
Others have years to build their authority on LinkedIn. Am I too late in the game?
I'm sure you've seen some discouraging headlines about LinkedIn. Its algorithm is constantly changing and pulling down views. It's way too saturated from users oversharing content. You need to empty your pockets to boost your post views.
So, is it time to move on? Find greener pastures?
There are numerous networking platform alternatives to LinkedIn in recent times. Facebook Groups, AngelList, Slack Groups and Meetup are all great places to continue or start building credibility.
Yet, there are reasons to believe LinkedIn is still the best platform to establish thought leadership and grow your business.
It's still the go-to place for employers to find top talent.

It's where B2B businesses turn to when they're searching for new partners.

Most business decision-makers are highly active on LinkedIn.
This tells us something important — that LinkedIn is still an incredibly powerful platform for business networking, thought leadership and sales (despite what the naysayers say).
So, whether you've been on LinkedIn for years or are just getting started, it's never too late to build credibility on the platform.
The good news is that you can do several things to build credibility on LinkedIn in 2023.
The key is to focus and combine the right strategies that work for you and your business.
That being said, here are 3 ways to start standing out as an expert in your niche on LinkedIn.
Spruce Up Your LinkedIn Profile
It takes a lot of effort to compel your audience to make a purchase. True or false?
You probably didn't even bat an eyelash before answering that, did you?
That's because, as a business owner, you've probably invested a lot of time and effort to ensure you have the right business strategy to close the deal.
That's all the more reason to ensure that your qualified leads can find you on LinkedIn when they're frustrated from specific pain points to which you, the expert, can provide the best solutions.
Let's start with something that you can do within a few seconds.
Changing your Profile URL shows your professionalism and serious commitment to your brand. Polishing it requires little effort but promises big rewards in the form of credibility.
Your current LinkedIn profile URL probably looks something like this:
www.linkedin.com/in/yourname-123456789
A custom URL makes your profile more discoverable.
How do I create a short URL for LinkedIn?
To set up your custom LinkedIn URL or shorten it:
Click on

Me

icon from the top bar menu of your LinkedIn homepage.

Click

View Profile

Select "

Edit public profile & URL

" from the right-hand sidebar.

Under the "

Edit your custom URL

" section, click on the

Edit

icon.

Enter your desired custom URL and click

Save

.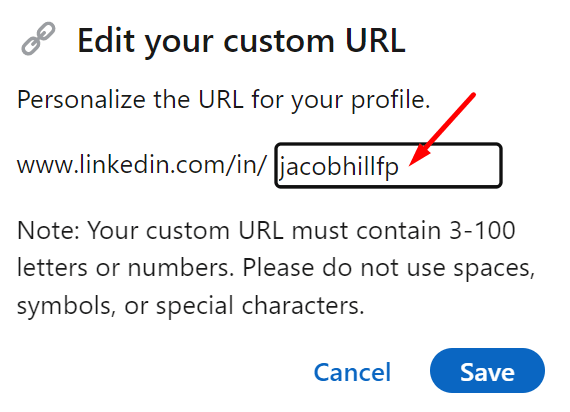 Example of a good URL:
www.linkedin.com/in/jane-doe
www.linkedin.com/in/janedoe
Example of a strong URL with higher discoverability:
www.linkedin.com/in/jane-doe-growth-expert
What should I know before changing my LinkedIn public profile URL?
3-100 character limit

No spaces, symbols, or special characters

Upper and lower cases don't matter. (i.e., a lead will still find you whether they type Jane-Doe, jane-doe, Jane-doe or jane-Doe)

You can change your URL 5 times within 6 months

Constantly changing URL will make your profile harder to find

Others can still find you with your old URL for up to 6 months
LinkedIn search functions similarly to Google's. Your profile is like your website, and you want to ensure it's ranking for the right keywords so that when leads search for those keywords, your profile appears as one of the top results.
Incorporate relevant keywords to various areas in your LinkedIn profile:
Your LinkedIn profile banner and image are like your website's hero image. You want them to make a good impression and accurately represent what you do.
Your profile banner is the first thing visitors will see when they land on your profile, so make sure it's high-quality and on-brand.
LinkedIn research shows profiles with a photo increase profile views by 2100% and connection requests by 900%.
Make sure to use a recent photo that looks like you and is high-quality. If you can, hire a professional photographer to take a few shots of you, or consider using a headshot generator.
Read this for more ideas on making an amazing LinkedIn profile picture.
Endorsements and recommendations
To appear more credible on LinkedIn, you can ask for endorsements and recommendations from your colleagues, clients, and connections.
How do I get endorsements on LinkedIn?
First, you'll need to fill up your profile's Skills section. You can do this by clicking on the "Me" icon > View profile > Edit public profile & URL > Edit Content > Add Skills.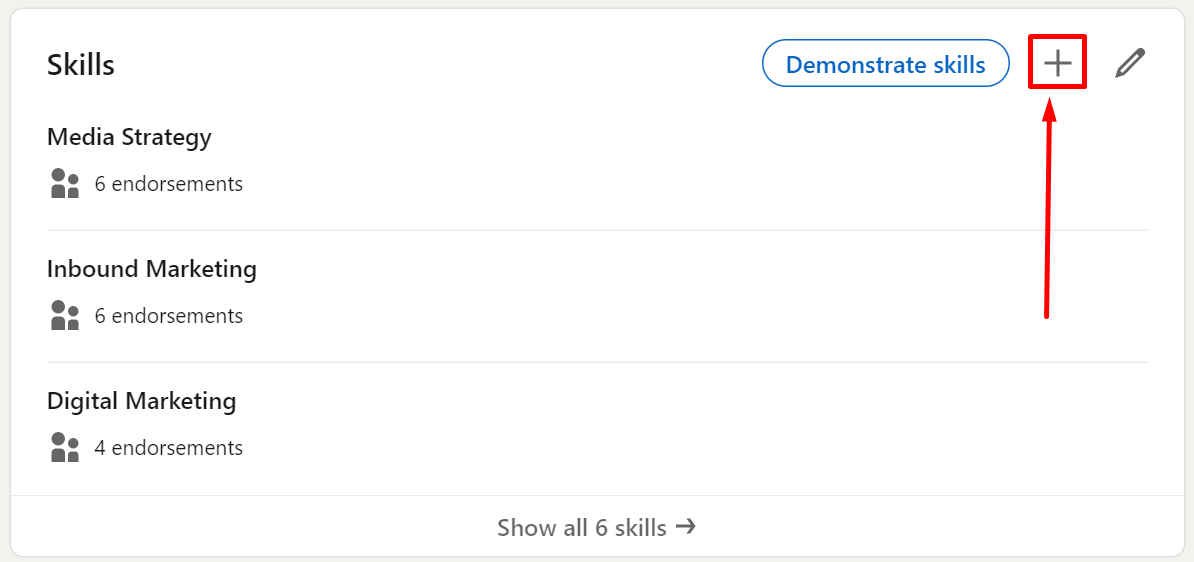 Once you've added your skills, you can reach out to people who work or have worked with you and get their endorsement. With just a click from their end, they are vouching for your skills, which makes you more credible in the eyes of potential clients.

You can also ask for recommendations if you want to go the extra mile. A LinkedIn recommendation is a written statement from someone in your network attesting to your abilities.
Recommendations are different from endorsements because they require more effort from the person writing them. Because of this, they hold more weight and can significantly impact your LinkedIn credibility.
How do I get recommendations on LinkedIn?
To get a recommendation, you'll need to reach out to someone and ask them if they're willing to write one for you. You can do this by clicking on the "Me" icon > View profile > Edit public profile & URL > Edit Content > Add profile section > Ask for a recommendation.
If you already have a few recommendations, you can request for more by:
Visiting a profile and requesting one under

More

Under Your Recommendations Section, select "

Ask for a recommendation

"
Contribute To Posts Relevant To Your Niche
Active LinkedIn Groups are far and few, and they don't get much visibility.
LinkedIn posts (not articles), however, get more exposure due to the algorithm's prioritisation.
How do I find relevant posts on LinkedIn?
Use the LinkedIn Search bar to find posts with relevant keywords in your niche. You can also follow specific hashtags so that relevant posts show up on your feed.
From there, add your comment to increase engagement and start a conversation. By contributing to these posts, you're positioning yourself as an expert in your field which helps boost your credibility.
How do I comment on more posts with limited time?
If you want to be active on LinkedIn but don't have the time to read and write comments for dozens of posts at a time, consider using a tool like AI tool for LinkedIn.
It's a browser extension with AI writing functions and a monitoring system for automatically tracking your key leads' most recent posts.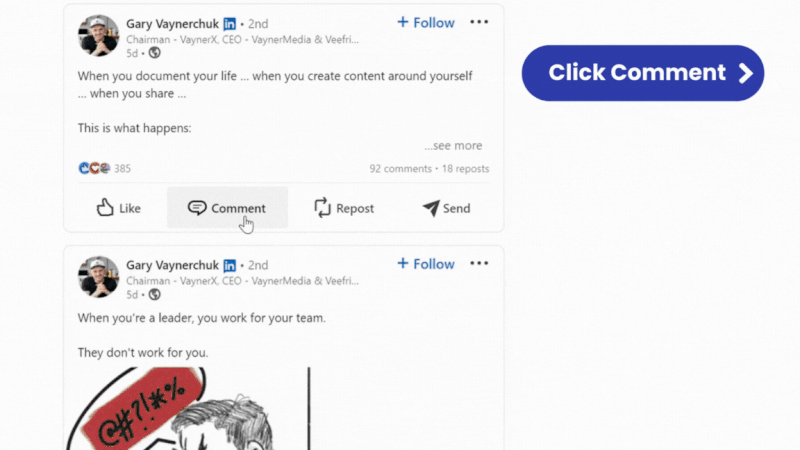 This way, you can quickly add thoughtful comments to relevant posts without spending hours on LinkedIn daily.
If you want to be seen as a credible source of information on LinkedIn, consider writing your own content.
This could be in the form of articles, posts, or even videos. By sharing original content, you're positioning yourself as an expert in your field which helps boost your credibility.
Include relevant keywords in your LinkedIn posts so your target audience can easily find them.
You should also share your content across other channels such as your website, social media, and email list to drive traffic back to your LinkedIn profile.
Ultimately, all your marketing channels should integrate seamlessly. When you drive traffic to your LinkedIn profile and boost your posts with engagement, LinkedIn will promote them to more prospective clients. This newly-tapped audience will then go on to visit your website and subscribe to your email list, which further allows you to nurture them into becoming paying clients.
Building credibility on LinkedIn doesn't have to be difficult. By following the tips in this article, you can create a profile that accurately represents your professional brand and make yourself more visible to potential clients.