LinkedIn summary or the about section is the most important section of your LinkedIn profile. 
Once your headline matches with the role, position, or service that someone is looking for, they are sure to read through or at least scan your LinkedIn summary. 
It's of superlative importance that you have a well-crafted, detailed, and easy to scan summary to entertain and impress your prospects.   
In this article, you will get all that you need to know for creating a great LinkedIn summary to ace LinkedIn networking. 
Write a Powerful Opener
The first sentence is your opportunity to hook the readers and impress them. Make it your lifelong mission to craft a compelling first sentence. 
Keep thinking and improving the sentence whenever you get some time. There's no end to how beautiful and optimised a sentence can be.
Here's an opener from a software developer's profile: 
What a great job it does in retaining your attention and entertaining at the same time.Most importantly, it has a storytelling element in it that makes you want to read more. 
You have to come up with something that catchy for yourself. 
Here's another example of a catchy storytelling opener you can use as a model for brainstorming:
It would also hook the readers, and they will keep reading to know more. As a result, you get a chance to delve deep into what you have learned and why does it matter. 
From there, you can move into offering more background on your career. 
Make Your Audience the Hero
Most people commit the mistake of making their LinkedIn summary all about themselves. Yes, it's definitely about you. But the purpose is to show what you can do for your clients or prospective employers. 
So, you have to talk about yourself, but everything should be focused on what's in it for them. 
The needs and wants of your audience should take center stage in a great LinkedIn summary.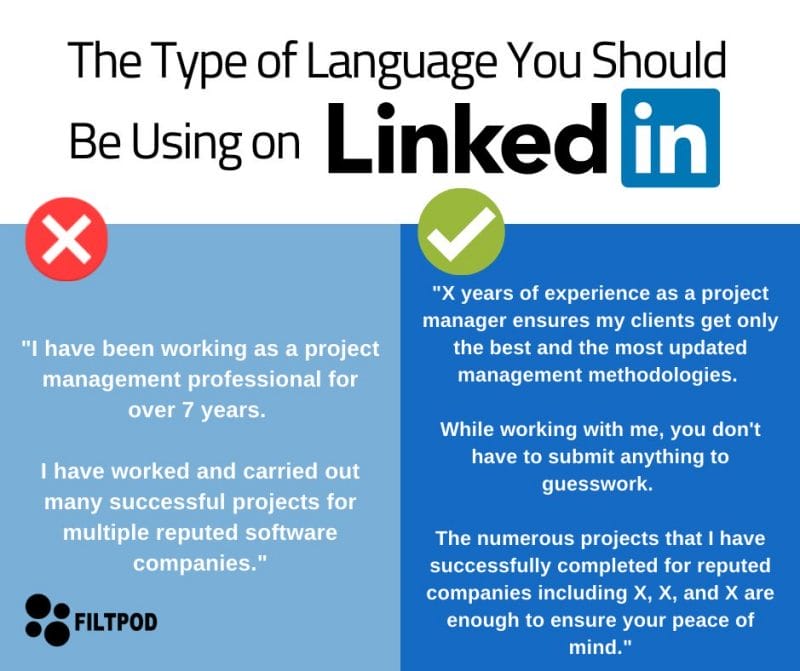 Can you spot the difference?
Both paragraphs are saying the same thing but the second one uses details that make it clear to the reader precisely what they will be getting from you. 
Now, use this approach as a great LinkedIn summary generator. 
Use Subheads to Structure Your LinkedIn Summary
Using separate sections under subheads can make your LinkedIn summary very easy to read. It will also make a great impression of your written communication skills. 
Based on your career trajectory, background, and kind of work you are doing, you can use subheadings like the ones below:
Core skills and expertise
Major career breakthroughs
Brief career story or background
You can also consider using bullet points to further make your summary easy to scan. Bullet points are great for showcasing all the most important aspects of your career. 
Use Quantifiable Achievements
While writing your LinkedIn summary, be mindful of using numbers. It's most important for showing the impact of your work or achievements. 
What kind of value have your accomplishments brought for your past clients and employers? 
Consider asking yourself the following questions: 
Has your work helped in decreasing cost?
Have the strategies you developed helped in increasing revenue?
Were you able to increase marketing ROI?
What about the increase in sales of your team?
Have you contributed to increased customer satisfaction ratings? 
Brainstorm and find out the numbers and percentages associated with all these similar questions that you can ask yourself.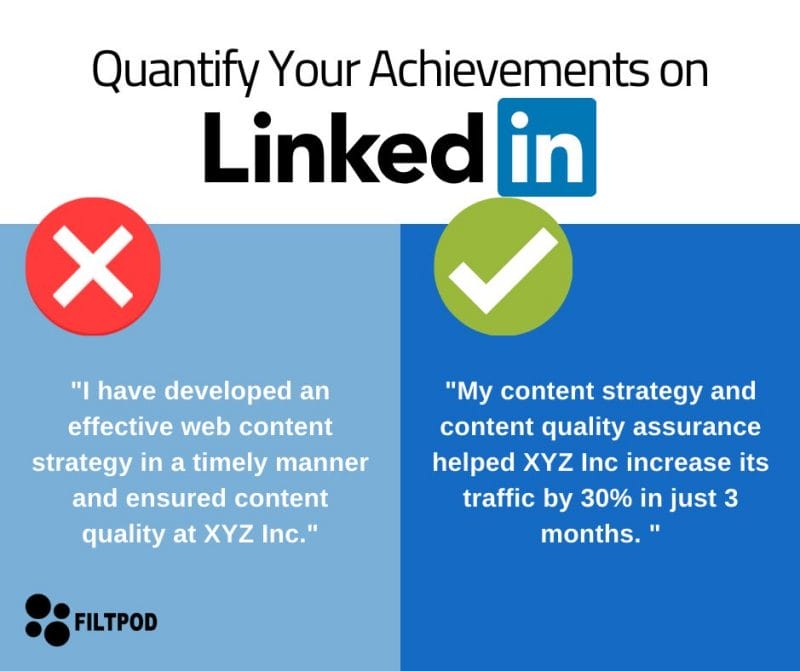 Which one would you hire?  Most certainly the professional with quantifiable results. That's how subtle details and change of verbiage makes all the difference in writing a great LinkedIn summary. 
Here's the list of key guidance for easy recall: 
Write a strong hook as the first sentence. 
Make your audience the hero of your story. 
Use subheads and bullet points to improve readability. 
Always quantify your achievements and impact. 
Once you are done with creating a great LinkedIn summary, now it's time to focus on all the other areas of LinkedIn and maximize your content reach.