With over 850 million users in more than 200 countries and regions, LinkedIn provides an unparalleled opportunity to connect with potential customers, partners, and employees from all over the world. It's no wonder that businesses are clamouring to get a piece of the LinkedIn pie!
However, it's also easy to use LinkedIn in a way that comes across as try-hard, self-promotional, or just plain annoying. First impressions matter and you want to maintain your chances of making a good one. Here are 7 tips on how to avoid those traps and use LinkedIn like a pro.
We've all been there — you see an update from a LinkedIn connection and think to yourself, "Do I really need to know this?"
Your LinkedIn profile is not a place to share your entire life story. Remember, LinkedIn is a professional networking site, so you want to present yourself in the best light possible. Avoid sharing too much personal information or updates irrelevant to your business or industry. Keep the personal stuff for other sites like Facebook and Instagram.
Here are a few ideas for posts that will get people clicking on LinkedIn:
News articles or blog posts related to your industry

Links to helpful resources or tools

Events or webinars you're hosting
Never neglect your personal profile
When was the last time you took a good, hard look at your personal LinkedIn profile? If it's been more than six months, it's time for an update.
Your Company page is essential to promoting your brand on LinkedIn, but there are other things potential customers or partners will look at. If your personal profile is outdated or incomplete, it reflects poorly on your company.
Take the time to fill out all the sections of your profile, including your summary, work history, and education. Add a professional headshot and cover photo. Use keywords throughout your profile, so you come up in search results.
And remember to regularly update your profile as your career progresses. You don't want potential customers or business partners to think you're stuck in a rut!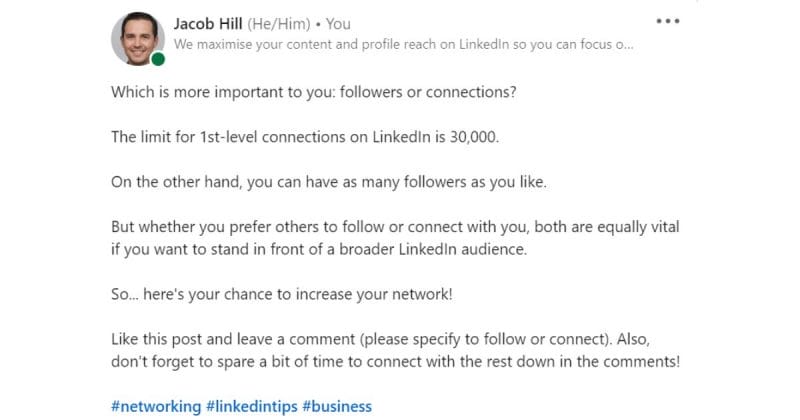 One of the best ways to increase your visibility on LinkedIn (and any other social media site) is by posting quality content regularly. If you can commit to posting once or twice per week, you'll be well on your way to building a strong LinkedIn presence and growing your business as a result.
To succeed on the platform, you need to be active and engage with other users regularly. Post new updates often, comment on others' posts, join relevant groups and participate in discussions. The more active you are, the more likely you are to attract new connections and followers.
Make sure to proofread your profile and all your content before posting it on LinkedIn (or anywhere else, for that matter!). Typos and grammar errors will make you look unprofessional and could damage your credibility.
Never send blind connection requests
When you're trying to grow your network, adding as many connections as possible can be tempting, even if you don't know them very well. However, it's essential only to add contacts you know and have a reason to connect with.
Sending blind connection requests is a surefire way to annoy your potential connections. If you have nothing in common with the person or can't think of a good reason to connect, it's best to start by engaging with their content.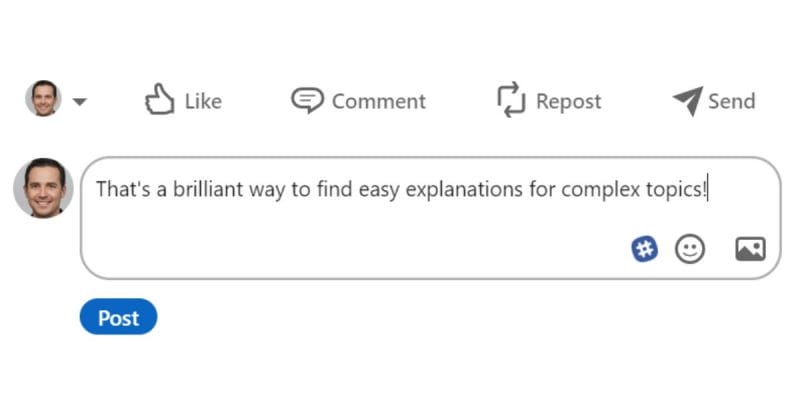 Also, take the time to read through their profile. Once you've built up rapport, you can then send a personalised connection request.
And when you do add new connections, take the time to write a personal message. A generic "I'd like to add you to my professional network" message says nothing about who you are or why you want to connect. A personalised message, on the other hand, will make a much better impression.
Yes, LinkedIn is a great platform for promoting your business and sharing your content. However, LinkedIn is not the place to pitch your products or services to strangers. To sell your products or services, you must first build a relationship with potential customers or business partners.
If you want to use LinkedIn for sales and marketing purposes, take a subtle approach by sharing helpful content and building relationships first. Share articles from other sources, start discussions and ask questions. Then, once you've established trust and rapport, you can start pitching your products or services in a way that doesn't come across as spammy or pushy.
It's not enough to post content on LinkedIn – you also need to engage with other users to grow your network and build relationships. Make sure to comment on, like, and share other users' content regularly. This will increase your visibility and help you build relationships with other professionals in your industry.
Of course, you should refrain from engaging for the sake of engaging. Only leave comments or start discussions if you have something valuable to add.
Never send newsletters to your connections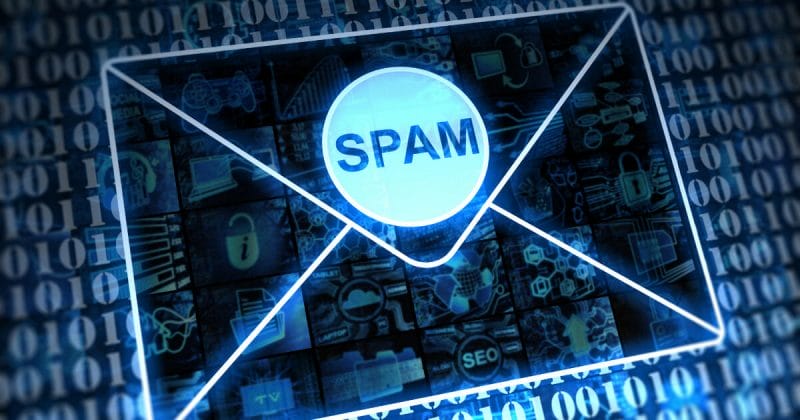 Unless your LinkedIn Connections opt-in to receive newsletters from you, sending them unsolicited offers is a surefire way to remove yourself from someone's network.
If you want to promote your products or services, share helpful blog posts or articles, or send out occasional news updates, make sure your connections have opted-in to receive these types of messages first.
So there you have it — 7 things to avoid doing on LinkedIn if you want to continue seeing results from your networking efforts. Just remember that LinkedIn (like any social platform) is all about building relationships. Focus on being genuine, helpful, and interesting, and you'll be well on your way to success!
LinkedIn can be an incredibly valuable tool for business owners and sales professionals – but only if you know how to use it effectively. By following the tips in this blog post, you can optimise your LinkedIn presence for maximum visibility — and avoid some of the common pitfalls that can trip you up. So what are you waiting for? Get out there and start networking!