Say you decide to look up a person's LinkedIn profile on Google.
Their full name is fresh on your mind, but that's pretty much all you remember.
Here's what you'd probably Google: "Jane Doe LinkedIn Profile". Lo and behold, you see over four thousand profiles with the same name on LinkedIn.

Yikes.
But Googling further takes only a few extra seconds, so you try again. You know the person you're searching for is a digital marketing manager. You don't know precisely where she's based but, at the very least, you know she's from the States.
Googling "Jane Doe LinkedIn Profile USA" narrows the field down to a few profiles, but none of them are hers.
The same could happen when prospects, recruiters and potential business partners look up your LinkedIn profile on Google.
Why is my LinkedIn profile not showing on Google Search?
Before we dive into the nitty-gritty of getting your LinkedIn profile to show up and be on top of search results, let's look at the vital prerequisite for profile visibility.
It's a mistake that many people make on their LinkedIn profiles. The good news is that it takes less than a minute to fix!
Log into LinkedIn and click on the Me icon in the top bar.

Select Settings & Privacy.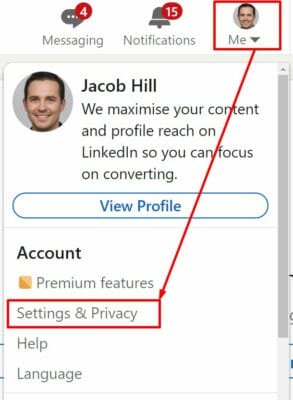 Under the Visibility tab in the left column, click Edit your public profile.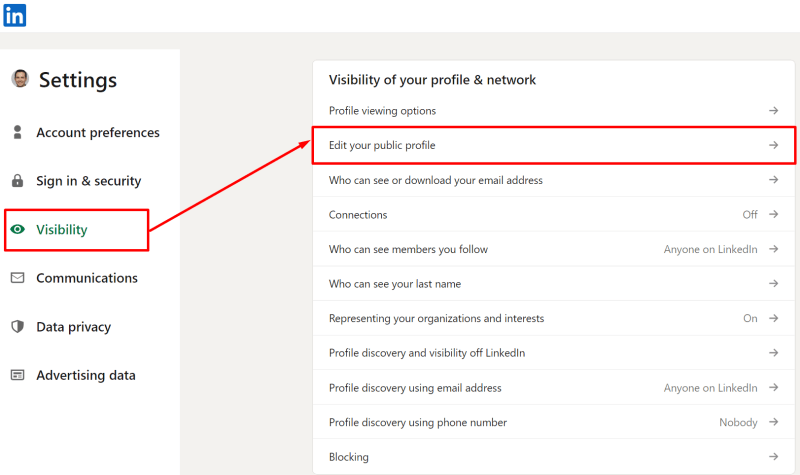 Toggle on your profile's public visibility under the Edit Visibility section.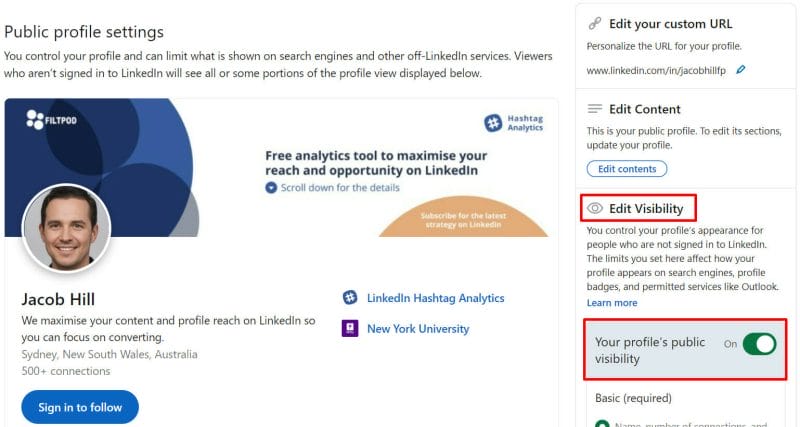 Now that your LinkedIn profile is discoverable on search engines, it's time to make sure it appears as high up on the list of Google search results as possible.
Unless you have a unique name no other LinkedIn user has, this will likely be a challenge. Similar to how websites in the same niche compete for the top ranking on SERPs, you'll also compete with other LinkedIn profiles with the same name for the coveted first position.
So, how do you get Google's ranking algorithm to deem your profile "important" enough to be seen first?
Why should I ensure that my LinkedIn profile appears on search engine results?
Google indexes LinkedIn profiles in the same manner as it does any other webpage. If you follow the above steps, you should see your LinkedIn profile show up on the first page of Google search results in no time.
And once you're there, you'll reap the following benefits:
You're more visible to your prospects, potential employers and other business contacts.
Improved networking opportunities
It allows you to control the first impression people have of you when they find you online.
Greater professional branding
When people see your LinkedIn profile on top of search results, it reinforces the idea that you're a thought leader in your industry.
In short, LinkedIn profile optimisation is a process worth undertaking if you're looking to improve your professional branding and networking opportunities.
Why is my LinkedIn company page not showing on Google Search?
While you're optimising your personal profile, you may also want to check out your company's visibility on Google.
If you're wondering why your LinkedIn company page isn't showing up on Google search, there are a few potential reasons:
LinkedIn profiles have a lot of similarities to regular websites. If you want your profile to show up on a Google search, you'll need to maximise every detail that allows people to discover your LinkedIn profile over others.
Even if you own a typical placeholder name like Jane Doe, you can bet that your LinkedIn profile is a notch above the rest!