You may have come across several tips and strategies in your efforts to update and strengthen your LinkedIn profile.
Increasing your LinkedIn connections is likely one of the most cited recommendations, but it always comes with a caveat:
Fewer but quality connections are better than hundreds of random connections.
But is that really true? Let's take a closer look.
What is a good number of connections on LinkedIn?
As much as we like to think it's quality over quantity, it's one of the first things people see when they visit your profile.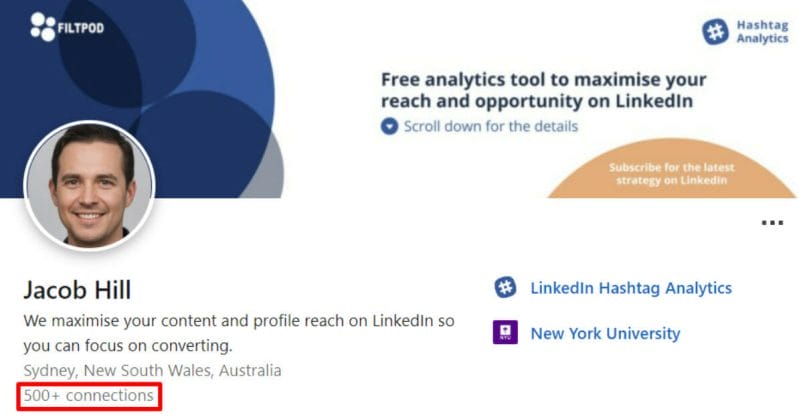 You could build a successful career with fewer connections. But to run a business?
You need credibility. And one way people determine this, at least on the surface level, is by your number of connections.
The more connections you have, the more credible you appear, at least until you hit 500 connections.
Others viewing your profile will only see the 500+ cap despite LinkedIn allowing for a maximum of 30,000 connections.
Is it good to have 500+ LinkedIn connections?
Yes, but only as a first impression. Still, this first impression can open many doors for you.
So, how important is it to have your LinkedIn profile displaying this 'golden' number?
There are numerous advantages to gaining 500+ connections on LinkedIn:
Most people want to work with those who are well-connected. Having 500+ connections on LinkedIn proves you have a certain level of influence.
Potential business partners
How well can you network? Interested parties will look at your profile to get an idea. 500+ connections will give them a good impression of your business networking skills. Your connections can also introduce you to their networks of potential clients, customers, or partners.
Access to a larger audience
If you're looking to promote your brand or business, 500+ first-degree connections on LinkedIn is a great start. You'll be able to reach a larger audience beyond your existing network — assuming your first-level connections give the initial engagement to boost your content!
Your connections can provide endorsements and recommendations that help to validate your skills and experience.
From there, you'll generate more leads, get more speaking engagements, or close new business deals.
How do people get 500+ connections on LinkedIn?
Whether you aim to reach 500 connections as fast as possible or prefer to build up a quality network slowly, you need to start by creating a great profile on LinkedIn. Include a profile photo, a concise headline, and a detailed summary of your experience and skills.
Reach out to relevant contacts
How do I find relevant contacts?
For a start, you can connect with colleagues, former classmates and other professionals in your industry you've met.
You can also use LinkedIn's search functionality to find people who work at your target companies or industries. Before sending them a connection request, make some effort to comment on several of their posts. Once they recognise your name, they're more likely to accept your request. It will also allow you to showcase your expertise, so they'd feel that connecting with you would be worthwhile.
When you've built some rapport with them, send them a message. Most of the time, they will send the connection request instead, which saves you from hitting LinkedIn's monthly connection request limit too quickly!
How should I message them?
Your message should be brief, friendly and includes a mention of how you know each other or why you want to connect.
LinkedIn Message Templates
Template #1

Hi Jim, I saw your post on the latest changes in the XYZ industry and wanted to reach out. I'm also in the field and would love to connect.
Best,
John
Template #2

Hi Jim, I've been enjoying the content you've been sharing on [content topic]. Would you like to connect and continue the conversation?
Best,
John
Template #3

Hi Jim, I was impressed by your work on [project]. I'm also in the field and would love to hear more about your experience. Would you like to connect?
Best,
John
What if they don't respond?
There's a possibility that some of your messages will go unanswered.
Rather than sending them another message, continue building the relationship by engaging with their content. They may reach out to you when they see that you're still interested in connecting.
If you've tried all these methods and they still don't respond, it might be best to move on to your next potential connection.
If you want to attract people to connect with you, share content that will resonate with them. This could be posts, articles, documents, or videos that offer value and insights into your industry.
Writing content puts your profile on the map. In particular, posts will show up on your connections' feeds.
Why is no one reading my posts?
You need your first-degree connections to engage with your post for others to see it. But, for that to happen, you need more connections. It's a never-ending cycle where you're trying to increase your connections, but it requires enough connections to begin with!
Here are two ways to boost your posts' initial engagement, so more people see them.
1) Appeal to hashtag followers
When you use hashtags in your post, it becomes discoverable to people who follow that hashtag. That means more potential eyes on your content!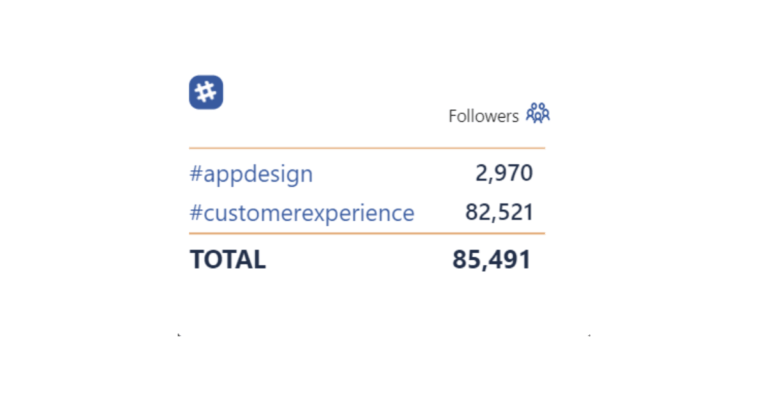 When you comment on someone's post, your name and profile picture appear next to your comment. This gives you valuable exposure to the person's network and helps build your credibility as an expert in your field.
In addition, when you leave thoughtful comments on LinkedIn, you are more likely to get likes from other users, which can further increase your visibility. In brief, taking the time to comment allows you to stand in front of your leads and build your brand.
You can use Engage AI to generate relevant comment suggestions and speed up your engagements with prospects.
What happens when you get 1,000 connections on LinkedIn?
Well, absolutely nothing!
Having 1000 connections is more for you than your profile visitors since others won't see the exact amount after you've hit the 500 connections mark.
More connections can mean more opportunities to stand out from the crowd when you post content. It can also mean you have better chances of securing deals with recommendations from your existing network.
That being said, you can't deny the importance of quality connections.
If you've connected with 500+ random people, it's not going to be as impressive as 500+ connections with industry leaders, CEOs, or other high-level professionals.
In short, you may have allowed some connection requests to go through without much thought. But, it's never too late to go through your list and clean it up! Having 500+ connections is a great start, but the real value comes from the quality of those connections. So, make sure you balance quantity with quality when growing your network.
Should you connect with everyone on LinkedIn, even if you don't know them well?
There's no easy answer to this question.
If you're trying to grow your network as quickly as possible, you can always research the people who request to connect with you. Then, accept their request if they meet the conditions you have for a valuable connection.
On the other hand, if you're trying to create a more selective network of high-quality connections, you can take a little more time to vet each request.
If you want to connect with someone you don't know well, it's better to send them a message first and ask for their permission to connect. That way, you'll know they're expecting your connection request and will be more likely to accept it.
The key is to be strategic about who you connect with to get the most out of LinkedIn.
While some people may see social media as a way to procrastinate or pass the time, savvy business people know that LinkedIn can be a powerful tool for networking and marketing.
If you're not already using LinkedIn to connect with potential customers, now is the time to start! 500+ connections can make a difference by increasing your exposure and giving you more opportunities to engage with potential leads.