What does it take to have sales-ready prospects? Better yet, ones that would eagerly line up to do business with you?
Consumers today are spoiled for choice. The market serves to meet their every need and desire, and they can find what they're looking for with just a few clicks.
Businesses are no different.
You can find and leverage an array of lead sources, but not all are created equal.
A lead source for another business may not work as well for you. This article will discuss all the best lead sources to generate the most sales-qualified leads for your business.
By leveraging this guide, you'll be able to tap into sources — hidden gems — that may surprise you and keep your pipeline full for months to come!
Defining a lead source in business
What are the main types of lead sources?
There are two types of lead sources: inbound and outbound.
Inbound lead sources are when customers come to you, such as through your website or blog. They've likely heard of you or been referred to you by someone else.
Outbound lead sources are when businesses find their own leads, often through cold-calling or lead lists.
What is an organic lead source?
An organic lead source is a channel where you acquire leads without having to pay for them.
For example, if someone stumbles across your website and leaves their contact information, that would be an organic lead source.
What is a good lead source?
There are a few key characteristics that make up a good lead source.
A good lead source should be consistent in delivering leads on a regular basis. You don't want to keep finding new lead sources every few months because the last one dried up!
A good lead source should also be cost-effective. You don't want to spend a fortune on acquiring leads only to discover that they're not interested in your product or services.
A good lead source should also be a good fit for your business. Whether you're relying on organic methods or looking to buy quality leads, it's essential to ensure they align with your target audience. There's no use in attracting leads that will never convert into customers.
A good lead source allows you to acquire the necessary contact details to reach out and nurture leads into becoming paying customers.
How do you identify lead sources fit for your business?
The best way to identify lead sources that will be a good fit for your business is to start with your buyer persona.
Your buyer persona is a semi-fictional representation of your ideal customer, based on market research and real data about your existing customers.
Once you have a good understanding of who your ideal customer is, you can then focus on ramping up efforts to attract leads from the right sources.
9 best lead sources for B2B businesses
Here are top lead sources that are worth considering for your business:
Your social media profile is a powerful lead generation tool. If you're not actively leveraging it, you're missing out on a huge opportunity.
LinkedIn, in particular, is a goldmine for B2B businesses. It's estimated that 80% of all social media leads come from LinkedIn.
LinkedIn allows you to connect with other professionals in your industry, share your thought leadership content, and even run lead gen campaigns.
Creating content, sharing it, and engaging with others on LinkedIn is a great way to attract leads that are interested in what you have to say.
When a qualified lead searches for a keyword related to your niche, is it your website or your competitor's that comes up first?
The higher you rank in search engine results pages (SERPs), the more likely leads will find your website and contact you.
That's why lead generation experts recommend focusing on Search Engine Optimization (SEO) to ensure your site ranks as high as possible for relevant keywords.
You can pay to run ads on Google and other search engines, but SEO is a more sustainable lead generation strategy in the long run. To generate leads in the era of online marketing, businesses can also embed Google Reviews on website for free.
Referrals are one of the best lead sources available, as they're often high-quality and come from a trusted source.
There are a few ways to generate referrals, such as through customer testimonials, case studies, or even just asking your satisfied customers to refer you to their friends or colleagues.
When someone refers your business to a friend or colleague, it's an endorsement that carries a lot of weight, since people are more likely to do business with a company recommended by someone they know and trust.
Does your referral program need a boost? Check out these tips to get more referrals.
Webinars are an excellent lead generation tool for B2B businesses, as they provide an opportunity to showcase your expertise and build trust with potential customers.
Additionally, webinars can be recorded and repurposed as lead magnets or gated content to nurture leads down the funnel further.
#5: Whitepapers and eBooks
Whitepapers and ebooks are other excellent lead generation tools for B2B businesses. They can be used to educate potential customers about your products or services and build trust with your brand.
Additionally, whitepapers and ebooks can be gated behind a form to capture leads' contact information.
#6: Trade shows and conferences
Trade shows and conferences are another great lead source for B2B businesses, as they allow them to meet with prospects face-to-face and build relationships.
Trade shows and conferences typically attract attendees who are already interested in the products or services offered by exhibitors, making them more likely to convert into customers.
Facebook groups are a great way to connect with potential customers with a common interest. For example, if you sell software that helps businesses manage their social media accounts, you could join and participate in relevant Facebook groups.
Not only will this help you build relationships with potential customers, but it will also give you the opportunity to learn more about their needs and pain points. This information can be used to create better lead-nurturing content and improve your chances of generating sales-qualified leads.
You'll need to pay special attention to the rules of the groups that you join, as most do not allow self-promotion. In these cases, you can still build relationships with potential customers by providing valuable content and engaging in conversations.
Is your target audience busy professionals who enjoy honing their skills or staying up-to-date while commuting or working out? If so, they're probably big fans of podcasts.
It feels like every business has a podcast these days, and for a good reason.
Podcasts allow you to reach your target audience with valuable content they can consume on their own time while doing something else.
In short, podcasts can be a great lead channel if you include gated content or call-to-actions in your episodes. For example, you could promote a free ebook or template that potential customers can access by filling out a form on your website.
Online directories such as Google My Business, Capterra and Yelp are great ways to generate leads, especially for local businesses.
By claiming and optimizing your listing on these platforms, you can improve your visibility in search results and attract potential customers who are looking for businesses like yours.
Online directories offer review sections where existing customers can leave feedback about their experiences with a particular business. With the surge in demand for software reviews, getting your business listed could be the key to unlocking a lead generation goldmine.
Why are lead sources important?
Lead sources can help you track the progress of your lead generation campaigns and determine which channels are most effective at generating leads.
From there, you can revisit your business strategy and focus your lead generation efforts on activities that will generate the highest return on investment.
How do you track lead sources in Google Analytics?
First, set up a new Goal under Admin in Google Analytics.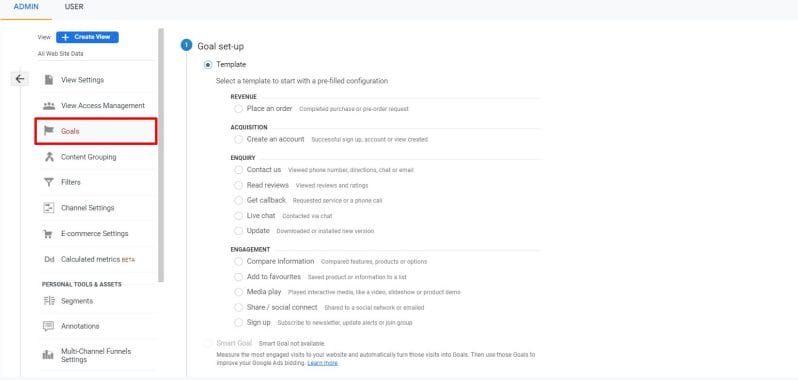 Google Analytics will track every source or medium that completes an action you've designated as your Goal.
Select Goals>Overview in the left-hand column.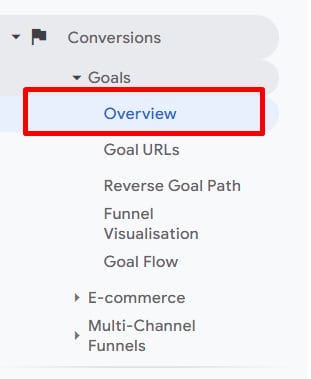 If you have multiple goals set up on Google Analytics, you can filter the data down to a specific Goal.

Click on Source/Medium to see what your lead sources are during the date range of your choice.

In Google Analytics, lead sources can be tracked optimally using UTM parameters.
UTM parameters are pieces of code that are added to the end of a URL.
They allow Google Analytics to track specific lead sources, so you can see which ones bring people to your website and generate leads.
You can use UTM parameters on both organic and paid lead sources.
For example, if you're running a paid ad campaign on Facebook, you would add UTM parameters to the landing page URL.
This would allow you to see how many leads are generated from that specific campaign and whether it's worth your investment.
There is a multitude of lead sources that you can use to generate sales-qualified leads in 2023.
By identifying the lead sources that work best for your business, you can focus your lead generation efforts on activities that will generate the highest return on investment.