LinkedIn is the go-to social network for over 57 million companies and 65 million business decision-makers. Professionals worldwide use the platform to build connections, expand their reach, and stay ahead of the latest market trends. Members can also leverage LinkedIn Marketing Solutions to drive engagement and conversions.
Given these aspects, it's no surprise that LinkedIn can be an effective social selling tool. Its members have twice the buying power of the average online audience.
However, you need to do more than just set up a business page and expect customers to engage with your brand. You also need to post regular updates, share expert insights, and use the right tools to drive brand awareness. For example, you should leverage LinkedIn messaging for your outreach strategy.
The challenge lies in getting your message noticed by prospects. Plus, you must find a way to streamline your outreach efforts. One solution is to automate LinkedIn messaging and engage your audience at scale.
Leverage LinkedIn for B2B Lead Generation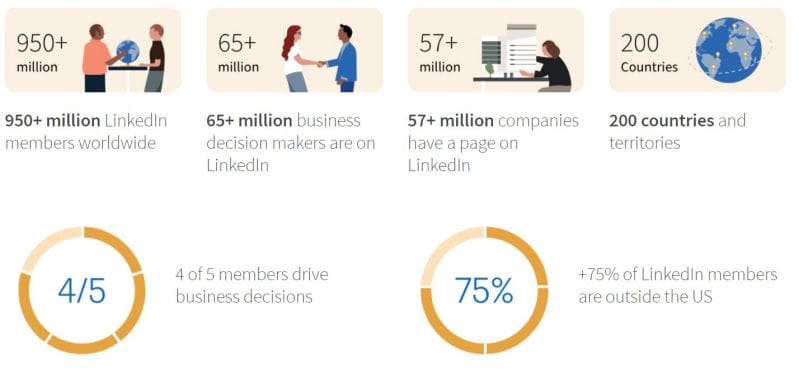 LinkedIn caters to business professionals, unlike Facebook, Twitter, and other social networks. The platform is home to over 180 million senior-level influencers, 10 million C-level executives, and millions of other decision-makers across 200 countries.
But that's not all. Consumers exposed to brand messages on LinkedIn are six times more likely to convert. These figures make it easy to understand why so many companies use the platform to generate B2B leads.
Not only does LinkedIn drive relationship building, but it also allows you to laser-target prospects based on location, job title, company, and other criteria. Plus, you can use prospecting tools like ZoomInfo to streamline B2B lead generation.
Such tools enable sales teams to research and segment their audiences, create targeted lists, track contacts, and more. These insights allow them to personalize their outreach and close deals faster. LinkedIn users can also send personalized connection requests and InMail messages to potential new customers. Basically, it paves the way for meaningful conversations that could lead to B2B partnerships and sales.
Moreover, sales professionals can join and participate in LinkedIn groups and share their insights on the platform. These interactions can drive engagement and brand awareness while building trust with potential clients.
However, using LinkedIn for lead generation comes with challenges.
This brings us to the point…
Personalize and Automate Your LinkedIn Outreach
Nearly 90% of B2B marketers leverage LinkedIn to generate leads, and more than 60% find it highly effective. These professionals typically use LinkedIn Messaging and other tools, such as LinkedIn Sales Navigator and LinkedIn Ads, to attract, nurture, and convert prospects into paying clients.
LinkedIn Messaging is a communication platform where users can directly engage with each other. Anyone with a LinkedIn account can use the platform to message other people. However, only premium members can reach out to users they're not connected to. This feature is called InMail.
Most marketers and sales professionals are premium members who can send InMail messages. The problem is messaging hundreds of customers would take a long time. Plus, you must find a way to make your message stand out so it gets opened.
Considering that using third-party tools like Expandi, Dux-Soup, or GrowthLead to automate LinkedIn messaging is a worthwhile strategy. These apps allow users to send targeted InMail messages to multiple prospects at once automatically. And that's just one of their many features.
However, automation alone doesn't guarantee results. You also need to personalize your messages and build rapport with potential leads. From this perspective, LinkedIn messaging is quite similar to email marketing.
For example, using the best email subject lines can boost open rates and drive conversations. Similarly, InMail messages with catchy subject lines will spark curiosity and engagement, leading to higher response rates and, ultimately, more sales.
Personalizing and automating your LinkedIn outreach can help you get better results in less time. It also ensures your outreach efforts are consistent, making building and nurturing relationships on the platform easier.
Get Started with LinkedIn Message Automation
As your business grows and you have more leads to reach out to, automation and digital transformation become essential for managing your pipeline. This technology allows you to scale your outreach efforts without increasing the manual workload.
What's more, automation tools often have A/B testing capabilities. This feature allows you to experiment with different subject lines, calls-to-action (CTAs), and other elements to determine what resonates best with your audience. Plus, you can track the results in real-time and adjust them as needed.
Some tools also allow you to insert dynamic placeholders for user-specific elements, such as the recipient's name, enabling personalization at scale. You can put your outreach on autopilot and maintain a personal touch.
Ready to give it a try? Here's how to automate your LinkedIn messages for B2B lead generation.
Automated messages can trigger spam filters or violate LinkedIn's rules. That's why it's essential to use trusted automation tools.
For example, some tools allow users to personalize their outreach or limit the number of messages sent daily. Others can mimic human behavior, reducing the chances of having your messages flagged as spam.
Ideally, use cloud-based automation software rather than Chrome extensions. These tools are more likely to remain undetectable. For starters, reach out to at most 100 people per week and send InMail messages on different days. Refrain from sending out links and attachments the first time you contact a potential lead.
Apart from that, personalize your messages and keep them as relevant as possible. Also, remember automation isn't meant to replace human interactions. Take the time to personally engage with your leads after they respond to your message.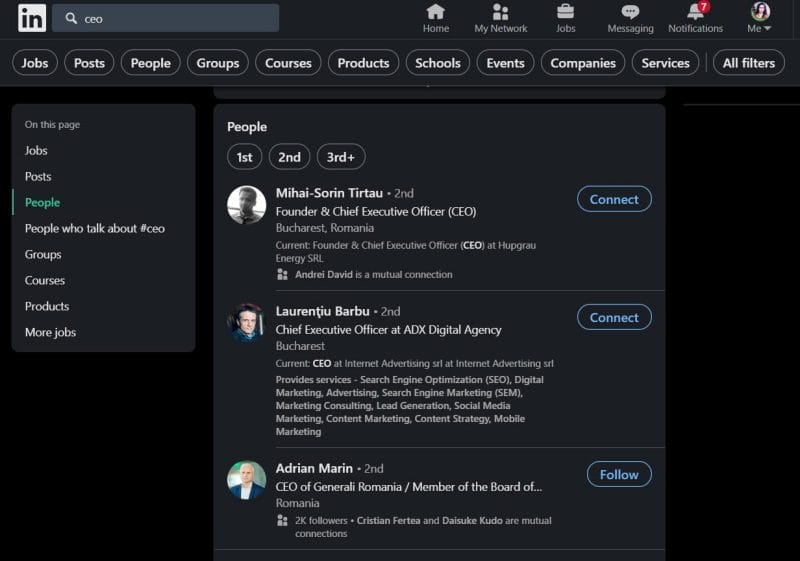 LinkedIn message automation starts with a clearly defined list of prospects.
First, segment your audience by location, job role, company size, industry, pain points, and other criteria. This practice allows you to send more targeted messages to different customer groups.
Depending on your needs and budget, there are several ways to define and segment your target market. For example, you could use LinkedIn's search function to find potential leads and build your list. This feature is free for all users.
Another option is LinkedIn Sales Navigator, which provides more detailed filters, such as seniority level, current job title, and buyer intent. You'll also want to reach out to users who engaged with your brand in some way (e.g., LinkedIn members who commented on your posts).
Next, create a series of messages for each audience segment. After that, leverage automation to send personalized connection requests, messages, and follow-ups.
Personalized LinkedIn messages can boost conversions and enhance the customer experience, among other perks. But how can you tell what works best for your audience?
One solution is to compare two or more versions of your messages. This method, known as A/B testing or split testing, can help you determine what works and doesn't.
Start by defining your goals, and then decide which variables you want to test.
These may include:
Subject lines
Message body
Message length
The tone of voice (e.g., formal vs. casual)
Formatting
Call-to-action
Number of links
Level of personalization
Signature
If you're testing the subject line, draft two different subject lines for your messages. Keep the message body and CTA consistent between the two variations. Send both messages to a random sample of prospects to see how they react. Use LinkedIn Page analytics and third-party tools like Dripify or Octopus CRM to measure and monitor the results.
Note that split testing is an ongoing process.
Therefore, you must continuously test and refine your messaging to achieve the desired outcome.
For best results, tailor your A/B tests to different customer journey stages.
Customize Your LinkedIn Connection Requests
LinkedIn allows users to send a short note along with their connection requests. Use this feature to introduce yourself and give prospects a reason to accept your invitation. Connection messages can be up to 300 characters long. That's not much, but it's enough to make a good first impression.
Ideally, try to find common ground, such as a mutual interest in a particular subject or an upcoming event. Be authentic and avoid using overly salesy language.
With this approach, your requests will stand out from others and help you amplify your reach. Plus, it's a great way to identify the people most likely to need your products or services genuinely.
Use the Right Tools to Automate Your Outreach
Lastly, use the right tools to automate your LinkedIn messages and connection requests.
For best results, consider the following features:
Personalization capabilities
Bulk scheduling
Advanced analytics and reporting
Customizable message templates
Audience segmentation tools
A/B testing capabilities
Compliance features
Integration options
Dynamic lists
Multi-channel support
Anti-spam features
For example, you'll want to select a tool that integrates with your CRM system to ensure smooth data flow. Or perhaps you prefer one with customizable limits, dynamic placeholders, and data enrichment for a higher level of personalization.
Remember, no one tool can do it all, so you must decide which features to prioritize.
Unlock the Power of LinkedIn Outreach
LinkedIn can be an effective lead-generation tool, but you must use it correctly. For starters, optimize your business page and build a list of prospects. After that, leverage automation to personalize your outreach and drive sales.
This process involves a learning curve, so be prepared to experiment and try new things. Take the time to research the market, conduct A/B testing, and fine-tune your messaging. Also, play around with different automation tools until you find one that checks all the boxes.
Remember to engage with your leads and build lasting relationships actively. This approach requires a human touch, so don't try to automate everything. Instead, use the technology to streamline repetitive or tedious tasks and get things done faster.
Complementing your LinkedIn messaging strategy with a commenting strategy will also help move things along quickly since you'd be making yourself visible to leads with various contact points. Unlike LinkedIn messaging, commenting appears less salesy, especially if your intentions are to break the ice and build rapport before getting into a sales conversation.
Plus, AI commenting tools like Engage AI are extension-based but advocates for the human making the final decision. This means that it conveniently works directly within LinkedIn but does not fall under the automation tool category, making it safe to leverage for optimal sales results.
Start sending LinkedIn InMail messages to drive brand recognition and generate leads;
Define and segment your audience to better target your outreach efforts;
Personalize your messages for each customer segment and add a human touch to your communications;
Leverage automation to put your messaging on autopilot and save time;
Ideally, opt for cloud-based automation tools and send no more than 100 messages per week;
Conduct A/B testing to determine which of your messages have the greatest impact;
Make sure your messages comply with LinkedIn's terms of service to avoid having your account flagged for suspicious activity;
Pair your LinkedIn messaging strategy with an AI commenting strategy for optimal sales results.

Custom-engineered AI for your LinkedIn workflow
Streamline prospect monitoring and nurturing for smoother sales closures
💡
Long-term conversational memory
Recap commented posts for easy recall
Retrieve relevant posts you've previously commented on
Cite a relevant post in your future interactions with the same prospect
💡
Save & monitor key prospects
Identify and save ideal prospects in the web application
Monitor their recent posts on LinkedIn
💡
Set up email notifications
Receive timely alerts to stay updated on engagement opportunities
💡
Increase touchpoints over time
Initiate additional touchpoints with prospects effectively for better conversions
Track engagement count with each prospect