A powerful LinkedIn network can take your business to new heights.
From social selling to essential business partnerships, there's not much the platform can't provide with its reach of over 750 million professionals worldwide.
The trick is to be active and to keep increasing your connections and followers.
Here are all the growth hacks you need to expand your LinkedIn account 👇
1. Grow Your Network With LinkedIn Outreach
Naturally, the obvious step is to reach out to people to connect with them.
The first thing you need to do is to find the best connections for you. When your goal is to grow your network, here are a few things you should be searching for when prospecting:
People in the same industry or your client's industries

People that could be potential clients

People who have a decent following and are considered experts in their fields

People that are very active on the platform and have similar interests to yours

People who share interesting ideas that you can learn from

People who are members of the same groups as you
Send hyper-personalized messages
A good outreach strategy that revolves around thorough prospecting and clever cold messages to go along with your invites will make for a high acceptance rate.
Create a prospecting list with all the contacts you've found and start your outreach.
People are on LinkedIn because they're always looking for new professional opportunities.
So don't hesitate to introduce yourself and let them know why you'd like to connect or if you have any mutually beneficial professional ideas.
To reach as many people as possible, use automated outreach tools to deliver hyper-personalized messages to your prospect list in seconds.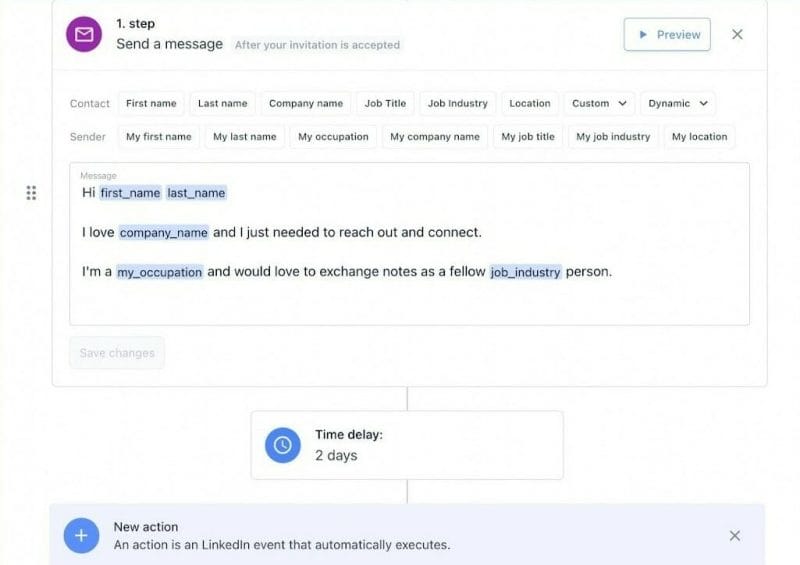 Here's why this is the best hack: When you automate outreach, you can send about 100 invites per week, the imposed by LinkedIn. At an average acceptance rate of 30% to 40%, you can grow your account by 30-40 people every week.
That's over 100 new connections monthly only through outreach!
Write quality comments on prospect's LinkedIn posts
Another great way to increase your visibility on the platform and connect with potential prospects is by writing meaningful comments under their posts.
Commenting on people's content helps you stand out from the crowd, shows that you're actively engaging with other professionals on LinkedIn, and strengthens your brand presence.
By writing meaningful comments, you're putting yourself in front of your prospect and more. Your and your prospect's networks will both be able to see your comment, increasing your visibility and brand recognition.
Moreover, people will consider you an expert in the field when they read through your comments and start looking into who's written them.
An excellent, free  hack is using this LinkedIn commenting tool to engage more prospects on LinkedIn in less time. Instead of leaving generic comments like "great post" or just a thumbs up, let this AI write relevant comments based on your prospects' post content.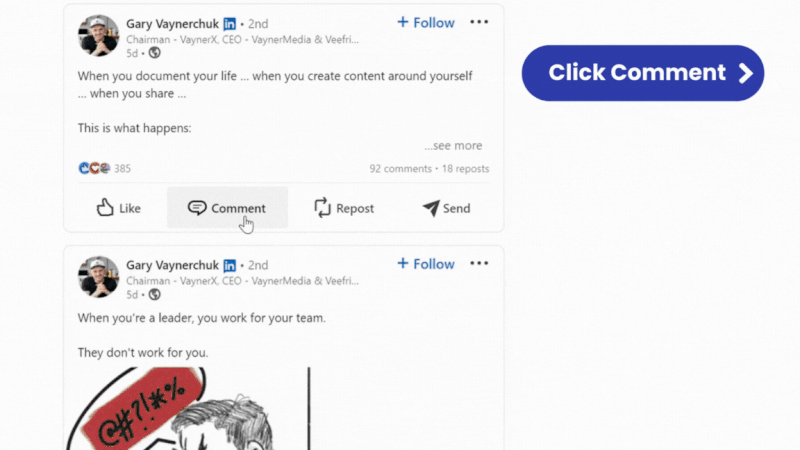 2. Find New Connections in LinkedIn Groups
A professional LinkedIn group is a network in and of itself, with the bonus that it gathers people with a shared interest.
Active, industry-relevant groups are a great way of reaching valuable connections. You can reach people through posts, comments, or private messages.
You can message anyone from your group on LinkedIn directly without sending a connection invite first. It means no quota on the number of messages you can send.
So incorporating LinkedIn groups into both your content and outreach strategy is a hack for the ages.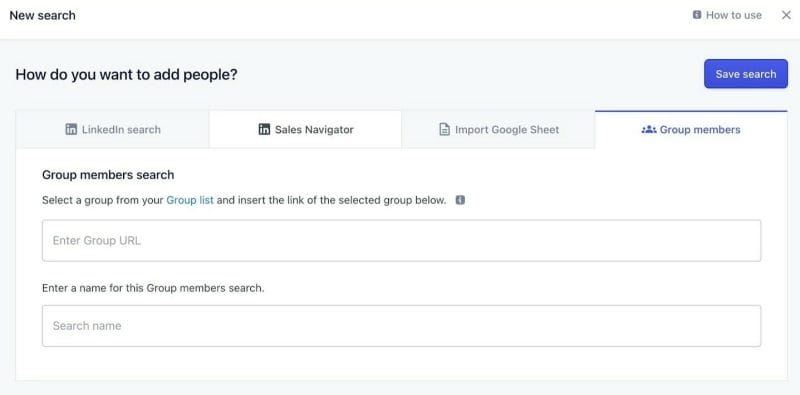 3. Improve Your Branding Strategy
Branding is not limited to your regular ads and campaigns. Your company's branding elements should bleed into any action you take online and offline.
Think logos, visuals, tone of voice, and messaging every time you're on LinkedIn, and make sure you're constantly hitting those notes.
A successful branding strategy can make your business memorable, helping it stand out from the crowd. Instant recognition is vital for social media.
A consistent, clear message strategy will also build credibility within the industry, ultimately translating into increased leads and sales from a growing loyal customer base.
Brand ambassadors can also strengthen your branding. Your employees are usually the best brand ambassadors.
If they share the company values and feel inspired to promote business activities with which they resonate, there's no better publicity than healthy company culture.
4. Showcase Your Expertise
Since LinkedIn is a professional platform, people seek out industry leaders and experts who add value and have the credentials to back up their claims.
Positioning yourself as an expert with a proven method will convince people to follow you organically without much effort.
You can showcase your expertise by adding links to your profile from your website, case studies you've done, interviews, and media appearances. Anything and everything you've done will prove your worth.
On top of that, you can also highlight your ideas and advice through content: both LinkedIn posts and articles.
5. Get LinkedIn Followers and Connections Through Content
The golden rule of content: Help first, sell later.
People tend to follow experts that can help solve an issue or a pain point. And the more the content is aligned with its message and aligns with their needs, the more loyalty is gained.
So here are the two sides of the coin:
Use your content to attract followers
Believe it or not, people will follow you organically when you share valuable information and knowledge.
Be consistent in your brand's message and voice, be thorough, and share information from your professional experience.

Whenever we share our experience, we try to back it up with results and data. We love outreach, but anyone can talk about the benefits of LinkedIn outreach.
Instead, we share information straight from our campaigns:
Invitations sent and accepted

New Connections

Messages sent

Replies received
This way, people can go back to their stats and see how they stack up.
Hint❗️ Whenever possible, add visual proof of your claims to your post, such as screenshots or videos.
Follow other people's content
On the other side, we have other industry experts you should follow yourself.
If their posts align with your values and you can extract actionable insights from their experience, don't hesitate to follow them or send them a connection request.
The benefits are twofold: you grow your LinkedIn network while also getting introduced to other industry experts from whom you can learn.
In this example from Content Marketing Institute, there was a post about the importance of a brand's tone of voice – something we've already touched on in this article.
Naturally, this is the type of content we want to follow to ensure we're constantly improving our content.
Leverage the big players in your industry
Don't limit your actions to only following the top industry experts with a strong LinkedIn game. Go the extra step. React and respond to their posts, and add your valuable points.
When you add extra information that enhances an idea, people will notice and appreciate it: the experts and their followers.
Not only is it helpful, but it also brings you visibility and the opportunity to increase your following.
6. Make Use of Linkedin's Connection Suggestions
LinkedIn's algorithm can help grow your account.
Since we're talking AI, the platform will have a pretty good grasp on what you're typically searching for and use that information to make recommendations such as 'people you may know'.
You'll find this feature on the 'My Network' page, with a few profiles recommended as potential connections. These suggestions could be based on commonalities between you and them and contacts imported from your email.
Here are the types of suggestions you'll get:
People who follow the exact expert you follow

People who went to the same school or university

Top emerging creators in your industry

People you may know with similar roles

People who follow the same groups
It's always a good idea to look through those profiles and add them to your network if you do have common interests.
7. Send People to Your LinkedIn Page
While you have a ton of growth hacks you can apply while on LinkedIn, you can also use your off-platform resources to send people to your LinkedIn page.
In the digital era, your business should be everywhere, so why not meet people wherever they follow you and redirect them to your LinkedIn account?
Use your signature to help contacts find you
You get in touch with your business contacts through emails on a daily, but chances are you're not also connected on LinkedIn. So make that happen.
You use your email signature to let people know how they can get in touch with you. All you have to do is add one more line to that signature with a link to your LinkedIn account.
Moreover, if you get featured by other digital publishers or publish content yourself, include your LinkedIn account in your byline.
Adding a simple link to any digital efforts will make it easier for people to find and follow you.
Turn your website visitors into LinkedIn followers
Your company website is also a great place to showcase your company's LinkedIn account or even your own. Use your contact section or the footer to tell people they can find you on LinkedIn.
Since they're already interested in your business, chances are they'll also be interested in your LinkedIn content.
Direct followers from other social media platforms
If you've already built an audience on other social media channels, why not ask it to follow you on LinkedIn as well?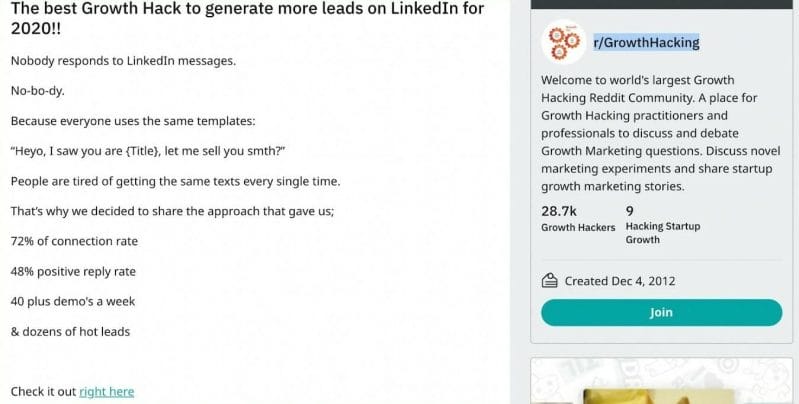 While traditional social media pages such as Instagram, Twitter, or Facebook could garner potential followers, you can grow your LinkedIn network with the help of Reddit or Facebook groups.
Growth hacking can be important to unlocking and generating revenue for your business.
Your network can help you grow your company and as a professional through an incredible pool of expertise that is there for the taking.
To hack the LinkedIn game, be consistent in your outreach, content, and advice. 
Remember to give back just as much value as you obtain from others.
Happy networking!