By forming strategic partnerships with other companies that offer complementary products or services, you can create a powerhouse of a business that is greater than the sum of its individual parts. These partnerships can be a great way to boost your sales and grow your customer base.
Not sure where to begin?
Here's an easy guide to get you started.
What Is a B2B Partnership?
Strategic B2B partnerships form between companies that share a similar target market.
These companies work together to create business growth opportunities for all parties involved.
Benefits of B2B Partnership (What's In It For You?)
1. Increased market reach
When two companies team up, they can combine their resources to reach a larger target market than either company could on its own.
2. New customers and increased sales
Partnerships offer an easy way for companies to find new customers and increase sales.
3. Improved product offerings
By working together, companies can create better products and services that appeal to a larger audience.
4. Enhanced brand recognition
Working with a partner can help you gain more exposure and better branding opportunities.
5. Greater industry influence
Partnerships give companies the ability to wield more influence in their industry.
Collaborative partnerships offer the opportunity for both parties to receive a boost in sales and improve their standing in the marketplace.
If your company is looking for a way to increase sales, gain new customers, or extend its reach, forming a strategic B2B partnership could be a great way to accomplish these goals. Integrating B2B ecommerce development services can offer you a competitive edge in the digital marketplace.
How Do You Find the Right Business Partner?
You can typically identify potential partners through your industry indices, past business associations or network connections on LinkedIn.
If you are having trouble finding a match, consider what you could offer another company; it might be something they're looking for to round out their product line or service offerings.
Once you've identified potential companies for your partnership, learn more about them by checking out their website and social media presence to see if they align with your brand.
If the above sources are limited for you, our large community of B2B business owners are always interested to collaborate with other driven businesses like yours.
How Do You Approach Your Business Partner?
When it comes to initiating contact, there are several avenues you can take.
You can send them an email or letter telling them you would love to discuss opportunities for a partnership.  
Or if face-to-face meetings are more your style, attend trade shows, conferences, and meetups related to your industry; this will give you the chance to network with potential business partners in person.
Once you've connected with potential partners, consider starting out by discussing whether some kind of long-term agreement would be possible.
How Do You Develop Strategic Partnerships?
Step 1: Define the goals of your partnership
Before you start forming a B2B relationship, define what each company can offer that will create value for your businesses.
What are their strengths? How can they contribute to your company's success? What makes them stand out from the competition?
It is important to be realistic about your company's capabilities, too. Are you ready for the challenges of collaborating with another company?
Step 2: Outline your expectations in a collaborative agreement
To ensure that both companies are on the same page when it comes to the terms of their business partnership, you should draft a formal agreement.
This can be an email laying out all of the important topics for discussion, or if necessary, a more legally binding document.
It is important that both parties are contributing equally to the partnership, so be sure to outline each party's responsibilities clearly.
Step 3: Implement your strategic plan
After you've established your goals and expectations, it is time to sit down with your team to develop a thorough strategy for making this relationship work successfully.
This is the time to flesh out your ideas for how each party will contribute to the partnership and what activities you can plan together.
From content creation to sales initiatives, now is the time to map out how this relationship will play out in your marketing strategy.
Step 4: Measure your success with KPIs & analytics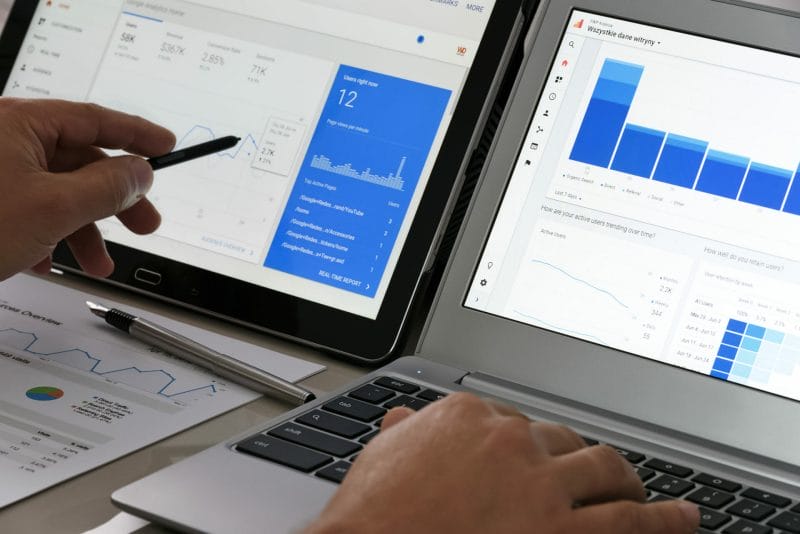 Once you begin to put your plan into action, it is time to set some benchmarks for measuring your success.
What are the measurable objectives you hope to achieve? Do these goals align with your business strategy?
Whether you choose to use sales data, social statistics, or web analytics, make sure that you are setting up tools to keep track of how well you are performing.
Step 5: Refine your approach as needed
As with any marketing initiative, it is important to be flexible and willing to make changes if necessary to achieve the best results possible.
Did a particular aspect of your plan not work out? Are there other ways that you can contribute to the partnership?
Take this opportunity to reflect on what went right and how to improve for next time.
A B2B partnership should be a mutually beneficial relationship that will propel both parties forward and allow them to grow together.
Through your plan, you can determine when this business connection has reached its full potential so that it does not become a drain on either party's resources.
By following these steps, you can create a strategic B2B partnership that enhances both of your companies and ultimately becomes a vehicle for success.
As with any kind of business relationship, communication and flexibility are key to making this work successfully.
If you keep these goals in mind as you develop your plan, you should be able to create a business partnership that will benefit everyone involved.