It's important to keep your LinkedIn profile current, especially when you've recently been promoted. This blog will guide you through how to add a promotion on LinkedIn. This step-by-step guide is designed to help you make these updates accurately, ensuring your professional network is aware of your career progression.
What is LinkedIn, and Why it's Important
Before we get into the specifics of how to add a promotion on LinkedIn, let's first define LinkedIn and why it's important. LinkedIn is a professional networking site where you can, among other things, connect with other professionals in your field, search for jobs, and share your professional accomplishments.
Keeping your LinkedIn profile up to date is critical because it demonstrates your professional growth, increases your visibility among recruiters and potential employers, and allows you to network with other professionals in your field.
How to Add a Promotion on LinkedIn: Step-By-Step Guide
Step 1: Log into Your LinkedIn Account
You must first sign into your LinkedIn account to begin the process. Use the LinkedIn website or the LinkedIn mobile application on your mobile device. Enter your email address and password to gain access.
Step 2: Navigate to Your Profile
Go to your profile after successfully logging in. To do so, go to the LinkedIn homepage and click on your profile picture, usually in the upper-right corner.
Step 3: Edit Your Experience Section
On your profile page, look for the 'Experience' section. This is where you will enter your new promotion. Click the pencil or 'Edit' icon to change this section.
Step 4: Add a New Job Position
If you've been promoted and have a new job title within the same company, click the "+ Add new position" button. This will open a new box in which you can enter your new job title, job type, employer, location, and dates of employment.
Step 5: Fill in the Details
Make sure to fill in all the required details about your new role. This includes:
The new job title

The name of the company (should remain the same if you were promoted within the same company)

The time (month and year) when you started your new role.
Remember to check the "I currently work in this role" box if you're still in this role.
Step 6: Describe Your New Role
Outline your new role's responsibilities and accomplishments in the description box. Where possible, try to keep it brief and quantifiable.
Once you've entered all the details, click 'Save'. Your promotion will now be visible on your LinkedIn profile.
Best Practices for Updating Your LinkedIn Profile
While you now know how to add a promotion on LinkedIn, here are a few best practices to keep in mind:
Keep it Concise

: Keep your job descriptions concise, clear, and to the point. Use bullet points or numbered lists to make the text easier to skim through.

Use Relevant Keywords

: Include industry-specific keywords in your job description to make your profile more discoverable.

Quantify Achievements

: Whenever possible, quantify your achievements. This helps provide a concrete context for your accomplishments.

Proofread

: Make sure to proofread your update for grammatical or spelling errors.
Enhancing Your LinkedIn Profile: Proven Strategies for Success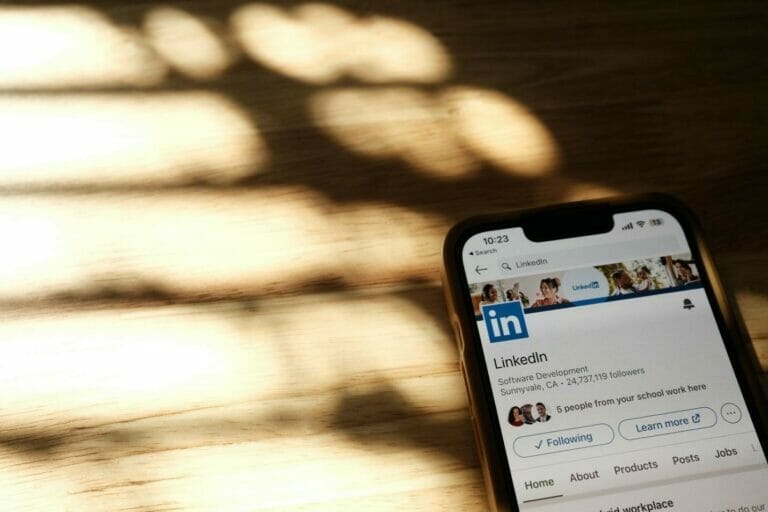 While you may already be familiar with adding a LinkedIn promotion, mastering the art of profile updates extends beyond these fundamentals. Because your LinkedIn profile reflects your professional self, you should make it as strong as possible. The following are tried-and-true techniques for keeping your profile up to date and making it stand out.
Crafting Concise Descriptions
It's critical to know how to say things in as few words as possible when updating your LinkedIn profile. A well-written profile is brief, straightforward, and to the point. But how can this be done properly?
Embrace Structured Formatting
Structured formatting, such as bullet points or numbered lists, can make difficult-to-understand information easier to read quickly. This prevents your most important accomplishments from becoming lost in a sea of text.
Incorporating Industry-Specific Keywords
Your LinkedIn profile is not a static page but part of a searchable professional network. Including industry-specific keywords in your job postings increases the likelihood that potential employers, clients, or business partners will find your profile.
Research and Use Relevant Keywords
Find the keywords that professionals in your field use and incorporate them into your descriptions naturally. These could be role-specific skills, tools, methods, or jargon.
Quantifying Achievements: Show, Don't Just Tell
Your profile is more than just a list of your jobs; it's also a showcase of your accomplishments. As a result, it's critical to put your accomplishments into context.
Use Numbers to Showcase Accomplishments
Quantify your accomplishments whenever possible. This could be in the form of numbers, percentages, or any other facts that demonstrate the significance of your role. For example, "led a successful marketing campaign" could be rephrased as "led a marketing campaign that increased web traffic by 50 percent over six months."
Proofreading: The Finishing Touch
Like any other professional document, your LinkedIn profile should be free of grammar and spelling errors.
Regularly Review and Update Your Profile
Make it a habit to check for errors and update your profile frequently. This not only aids in detecting errors but also ensures that your profile remains current and useful.
As a critical professional networking tool, LinkedIn can help you showcase your professional progress and connect with potential employers or business partners. To add a promotion to LinkedIn, log in to your account, navigate to your profile, edit the experience section, and save the changes after entering the necessary information.
However, adding a promotion isn't enough to fully utilize LinkedIn's potential. The way you present this information is just as important. To optimize your LinkedIn profile:
Craft concise descriptions

: Use structured formatting, such as bullet points or numbered lists, to make your profile easy to skim.

Incorporate industry-specific keywords

: Research and use relevant keywords to increase the discoverability of your profile.

Quantify your achievements

: Provide concrete evidence using numbers or data points.

Regularly proofread and update your profile

: Ensure your profile is free from errors and up to date.
The combination of these strategies helps you add a promotion to LinkedIn and makes your profile stand out, allowing you to take advantage of the platform's career advancement opportunities.