Search engine optimisation (SEO) has been around since the early days of the internet and is still going strong.
But how does it work, what should you do to get started, and will it help your business?
This article answers all these questions!
What is SEO?
SEO is a way to get your content in front of people searching for it via search engines such as Google and Bing. The idea is to get your content and keywords in front of the right person at the right time, so when they are searching for something related to what you offer, your site is on page 1.
Why Do You Need SEO?
Why do you need to use any marketing technique in general? Marketing is all about getting your content in front of interested parties. The better you can target this group, the more customers and sales you will get!
Search engine optimisation is just another way to reach a specific audience.
A great copy attracts the right people,
but can the right people find your copy?
What Can SEO Do For You?
It can help you with your online visibility. Running a website isn't enough anymore to be relevant. You need to make sure people can find you, and the best way to do that is through search engines such as Google.
However, to get your website to rank in Google's Top 10, you'll need to produce some high quality, relevant content and create high authority backlinks to your website.
Is SEO Worth It in 2022?
The truth is, SEO isn't going anywhere any time soon.
As long as people use search engines and search for things they need (and this won't change in the next 5 years either), there will be a demand for SEO.
More and more people are becoming active on the web. Online shopping sites have seen an exponential increase of new users due to the pandemic, and it's most likely to retain these members post-pandemic as the culture becomes the norm across the globe.
Competition is stiffer nowadays because more businesses realise the great value of possessing an online presence.
So, should you give up on SEO? Absolutely not, if you want to stay relevant in the eyes of today's customers.
Is SEO worth it for businesses?
Business owners usually need to try multiple digital marketing strategies and compare their effectiveness.
Unfortunately, there is no magic formula that works for everyone, so businesses need to be smart about what they choose to do!
Nevertheless, SEO is a long-term strategy that any business should invest in. Here are top reasons why many business owners find this strategy invaluable and worth the time:
Pay-per-click (PPC) ads can be expensive.
Most of your budget will go to pay the ad network. However, SEO doesn't cost you anything in general once you've learned how to do it properly.
Organic traffic and more prospects.
Businesses with blogs tend to attract more leads than those without.
Building credibility.
You can address your customers and prospects' questions or resolve any problems while building trust simultaneously!
Specialise in your area.
If Alan intends to solicit the services of a consulting firm in Central Sydney, you bet he's going to search for "consulting firms in Central Sydney". 
Infusing local SEO helps Google to connect you with the right audience and vice versa.
Getting Started 
If you are just getting started with SEO, I recommend keyword research.
Keywords are the words and phrases people use when searching for something online. If you're a painter, you might choose the keywords "where to buy oil paintings" or "online artists".
You want your website to show up on Google for these keyword searches so that your targeted audience finds and clicks on your link.
However, if you have yet to build your website's domain authority, the chances of ranking high on the web pages are low.
It's why you should aim for lower density keywords such as "online artists in Sydney". This way, you'll be able to rank your website higher for this keyword and target a niche audience.
What Can Be Done to Improve SEO?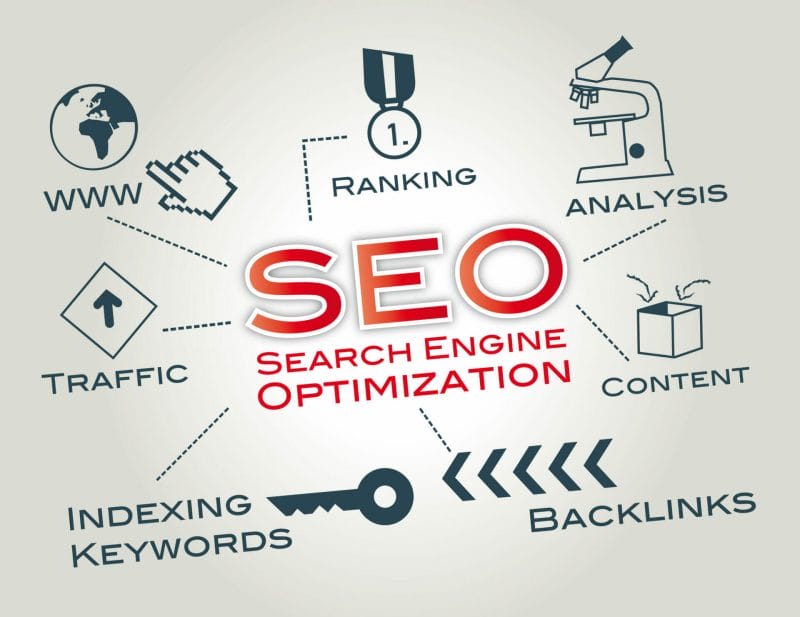 So, you've done your keyword research. What's next? 
Here are a few things you can do to help improve your website's visibility:
SEO Keyword Variations
Focus on different keywords for every page on your website. You don't want to compete with yourself for a spot on the SERPs. You also won't want your website's domain authority to sink because of keyword cannibalisation. With a rank tracker tool, you can easily keep track of your keywords to know the performance of your targeted keywords.
Create Useful Materials
The web is vast. There will, undoubtedly, be another free tool, template or guide out there, just like this free hashtag analytics dashboard for LinkedIn. However, that shouldn't stop you from creating an updated, more useful version for the online community.
If you're just starting to build your website's authority, these materials might still go unseen, no matter how valuable and effective they are. This brings us to the next point:
Outreach
Building high-quality and high-authority website backlinks to pages on your site take time. Not to mention, you'd need a foundation for those established websites to notice you.
Outreaching to websites that share your audience isn't a new tactic, but it's not an outdated one either. It is still an effective method to build up a new website to this day, alongside what follows:
Sharing On Social Media
Create social sharing content that encourages users to share it with their friends, family and followers on social media platforms such as LinkedIn, Facebook or Twitter.
Your posts on social media should provide just enough content to pique your audience's interest and make them click through your website to learn more.
Technical SEO
Enhance the speed of your website to ensure a better user experience and keep users on your site longer. There are tools out there that you can use to test your website's load speed.
 I recommend using Google PageSpeed Insights or GTmetrix. These applications will show you what slows down your website and how to improve it so that the experience for your users is better.
Check Your Existing Backlinks
Detoxify your backlinks regularly. Are there any spammy or irrelevant backlinks pointing to your site? You should remove them. This will help you get rid of the bad links and improve the overall quality of your site.
Make Your Website Design User-Friendly
Ensure your website is fully responsive so that it looks great on various devices, such as phones, tablets or desktop computers.
Conclusion 
SEO is a great strategy for businesses to grow their online presence and rank highly on search engines. 
Make sure to start with keyword research for your business, develop a strategy and stick to it. If you don't see some results after a few months, there's no need to despair!
Instead, analyse your SEO strategy and ask yourself what needs improvement or keep testing until you get the desired results.
With time and patience, you can rank high on search engines for keywords relevant to your business.