Social media is everywhere, and people use it for marketing their products and growing their businesses. There are thousands of influencers who are ruling social media at different levels. And you can take their help to advertise your business too.
However, there is no single metric associated with social media presence. But a comprehensive examination of influencers' may open the doors for you to understand the pattern. Influencers have established themselves for their knowledge and expertise about a particular topic or domain.
Therefore, you can use their existence for your benefit; otherwise, you can learn from their techniques to attract new customers for your business. First, you need to understand the value of social media for your company.
Significance of Social Media Presence For Your Business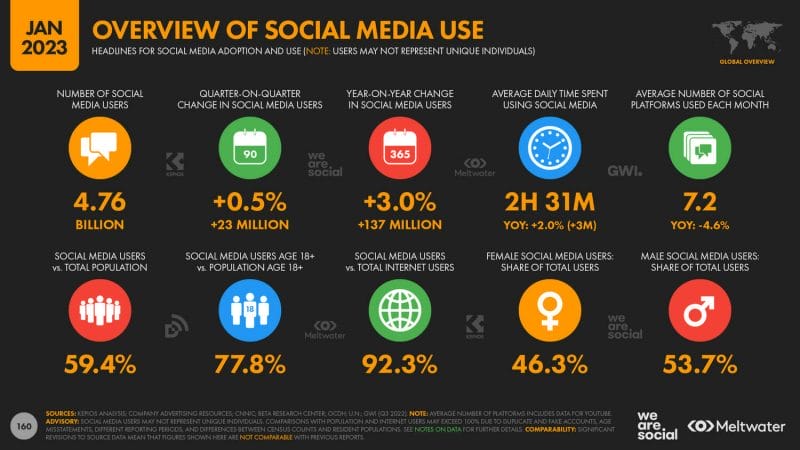 More than 59.4% of the world's population uses social media platforms at their convenience. 
If you are available on social platforms like Facebook, Instagram, Twitter, and LinkedIn, people can find you; you are in a good space. The primary benefit of social media presence is that you can connect with many people at once. 
Your brand is visible on social media, and users can connect with you. The more effective your presence, the more trust you can build with your followers before they become your clients. 
The latest trends on social media like short clips, videos, augmented reality, virtual reality, and more. So, to have a good hold, you can follow the below-discussed ways. 
Here are some of the easy and widely used hacks used by influencers to control their social presence. 
Create Engaging, Unique, & Informative Content
Content is everywhere, so you cannot afford to make a mistake when it comes to content. Whatever services or products you offer, create completely relatable, unique, and high-quality content.
If you share reels on Instagram or make videos on TikTok, stay on top of the trends by using new features that engage your followers more with your content. For instance, you can use text to speech on TikTok to add an automated voice to your videos and make your content more entertaining and engaging. 
To create better and more unique content, you'll need access to a video editing tool. A free video editor tool makes content-making more efficient by offering features like stunning filters to enhance the creativity of your videos and improving overall video quality.
For inspiration, you can visit any influencer's social media page and check how engaging and action-driven content they craft. Take reference from them and work on your content marketing strategy to bring more results. 
Stay Active and Consistent
It won't be enough to create your social presence, and then get idle or stop posting content because previously published content isn't giving any results. The key is to stay active and keep your users engaged.
If not through content, you can try images, videos, infographics, or anything valuable and informative.
Commenting on your audience's content can also bring more attention to your profile and brand. It's a complementary strategy to posting content, and it is widely used by prominent figures to keep themselves relevant in the eyes of their potential and existing clients.
LinkedIn influencers, for instance, would leave engaging comments using AI on the posts of their key prospects. Then, when their target audience responds, these influencers can easily take the conversation to the inbox, where they would further nurture prospects to take the next step with them.

Focus On Brand Voice and Aesthetic
Your brand is your responsibility, so make sure whatever you are posting should match your brand voice and aesthetics. Regardless of the marketing platform, your voice should remain consistent everywhere. 
Your social media strategy should completely align with your brand marketing. Publishing something that is not in compliance with your brand will surely hamper your overall brand value. Thus, understand the significance of brand voice before initiating marketing campaigns.
Now, this is important! Analyzing your competitors can help you create a strong and workable marketing strategy. Your competitors are likely using more effective marketing approaches that can also benefit your brand. 
Social media is a lucrative world for influencers, and it can help you get more leads for your business in a shorter time span. 
Happy marketing!
There you have it! Learning from top influencers about business growth can help you in many ways. And once you understand the techniques to grow, you can use them however you like. After all, business is all about growth, and social media can be your biggest support.