How do you cut down on LinkedIn hashtag search time but still yield amazing results?
What hashtag analytics should you look into besides a LinkedIn hashtag's follower counts?
In this article, we share the top reasons why you should start using hashtags on LinkedIn and an ultimate tool that will make your hashtag experience on LinkedIn easier and better.
Does LinkedIn Algorithm like Hashtags?
Yes, but only when you use hashtags moderately on its platform.
Remember that it gets harder for the LinkedIn algorithm to index your post when you use more than 5 hashtags.
Do Hashtags Increase Reach on LinkedIn?
The answer is yes again!
Of course, your copy comes first, but even a mint copy will not get a lot of attention unless you have a supportive network on LinkedIn that will consistently engage with your content.
However, remember that the effectiveness of hashtags on LinkedIn goes down when you overuse them.
Should You Use Hashtags on LinkedIn in 2022?
Absolutely! With the right LinkedIn hashtag strategy, your target audience will find your content more easily. Your network on LinkedIn will also grow because you're attracting like-minded people to your profile.
Here are some popular LinkedIn hashtags in 2022:
| | |
| --- | --- |
| Hashtags on LinkedIn | Number of Followers |
| #india | 67,515,688 |
| #innovation | 38,703,802 |
| #humanresources | 33,231,584 |
| #digitalmarketing | 27,354,008 |
| #technology | 26,415,584 |
But can these common hashtags really give you the eyeballs that you need?
Let's compare the data between a broad hashtag and a specific hashtag: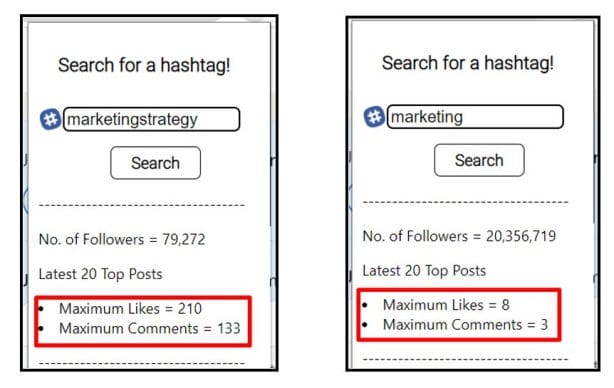 In the data above, you can see that #marketing has over 20 million followers compared to #marketingstrategy's 79,272. However, despite the lower follower count, using #marketingstrategy over #marketing resulted in higher engagement.
This is why hashtag analytics is so much more than looking at a LinkedIn hashtag's number of followers. Certainly, some broader hashtags can still provide strong engagement, but it's still essential to look at other metrics, namely likes and comments.
LinkedIn Hashtags: Why Do They Work?
Using hashtags on LinkedIn is one of the most popular strategies that even top LinkedIn Influencers use.
Why?
Because it's like getting free access to an untapped pool of prospects.
Let's say you write content targeting business owners. However, the only way for that content to be seen by others beyond your network is if the LinkedIn algorithm deems it as shareworthy content. And for that to happen, you need your first-level connections to like and engage with your content.
Here's where hashtags come in. By adding two to three hashtags relevant to your LinkedIn post, your content will be shown on the feeds of LinkedIn users who follow those specific hashtags. They don't even have to be your connection or follower to see it.
Certainly, you'll still need to get your first-level connections to engage with your LinkedIn content. That's how you get more of these prospects to read your content instead of simply skimming past them: social proof.
For business owners specifically, LinkedIn hashtags allow you to:
Spread more brand awareness
We all use hashtags these days to spread awareness about what we do or care about on social media. It's not unique just to Twitter or Instagram.
On LinkedIn, utilising popular hashtags helps you make a more significant impact with your content. The more people follow the hashtags you use in your post, the more attention your brand or product attains.
In other words, using hashtags on LinkedIn can boost your LinkedIn posts and make it available to a larger audience beyond your current LinkedIn network.
Easily find your target audience
Riding on the previous point, using the right hashtags will also attract the right crowd of people.
Some easy examples include #marketing for marketers or #sales for salespeople. 
However, the list doesn't stop there. It goes on depending on what type of audience you're looking to attract.
If you've secured an entry point for your business and know exactly the niche you're targeting, broad keywords like 'marketing' might not be the most effective to create successful posts with high organic reach.
And so, you may ask:
And the answer you're looking for is that it isn't necessary.
Initially, it can be a rather tedious process. There is no way of knowing how many followers each hashtag has unless you search for them one at a time or look up listings. However, with the solution I'm about to share with you, your LinkedIn hashtag search is over!
The Solution: A LinkedIn Chrome Extension
Chrome extensions don't take up much space on your computer, and they are easy to install.
Whether you're a business owner looking to grow your business, an entrepreneur looking to attract prospects, or even students looking to get hired, you can boost your opportunities by creating relevant content on LinkedIn.
With more LinkedIn users discovering the true value of content creation on LinkedIn and its impact on their careers and businesses, everyone is scrambling to optimise their LinkedIn content so they can stand out in the crowd.
The following LinkedIn Chrome Extension allows you to quickly discover real-time follower count of relevant hashtags on LinkedIn. By using this extension, your LinkedIn hashtag search no longer needs to take up precious content creation time as all the best hashtags are within your grasp.
LinkedIn Hashtag Analytics: How Does It Work?
1. Hover over any Hashtag on your feed.
If you're a follower of many hashtags on LinkedIn, you'll find that your profile feed will be filled with content related to them.
If you come across a hashtag that interests you because it is related to your niche, then hover your mouse over the hashtag.
You will immediately get the follower count without having to leave your profile in the first place.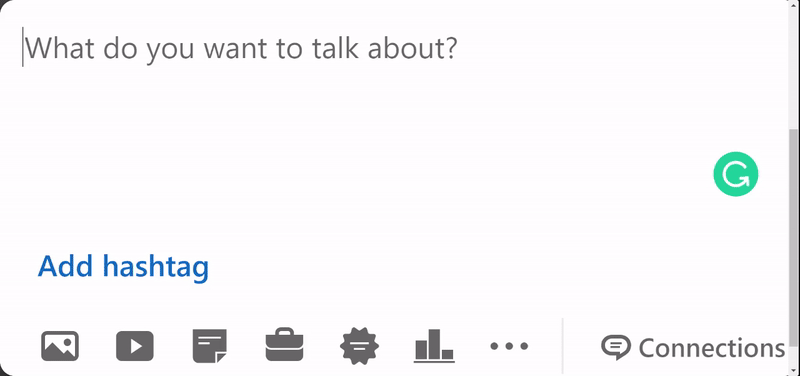 We tend to only know the popular hashtags. How can you access more options related to a topic or conversation?
Instead of cracking your head thinking about every word combination possible, all you need to do is begin typing a hashtag on your post.
If you're searching for hashtags for entrepreneurs, you can get so much more hashtags than #entrepreneur by starting a new post on LinkedIn.
The extension will work for you by providing numerous suggestions most related to your search and their respective counts.
Use the icon panel to conduct super-fast research on LinkedIn hashtags.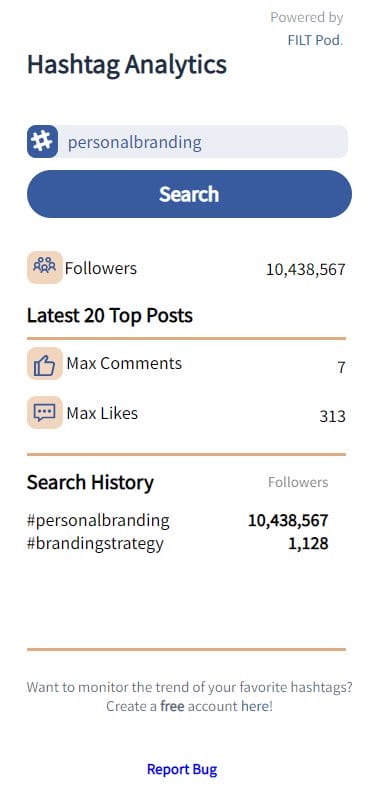 Gain insight to all the following questions you may have about LinkedIn hashtags:
Using Multiple Hashtags in a LinkedIn Post
There's nothing wrong with using more than one hashtag on your posts, as it enables you to reach a larger audience.
With the LinkedIn Hashtag Analytics Chrome extension, you're able to see your total reach of hashtag followers. Simply hit the "sum" button once you're ready to publish a LinkedIn post.
Want to make sure you're getting the most out of LinkedIn Hashtags?
Watch the short 1-minute video clip below to discover how downloading and using this extension provides the reach amplification your content needs.