Hootsuite is a powerful social media management tool; it allows you to connect and post on multiple social media accounts from one dashboard. Whether you're a solopreneur or running a large team across multiple locations, having a streamlined and automated approach to posting on social media is key. This guide will provide all there is to know on how to use Hootsuite for LinkedIn.
How to Add Linkedin to Hootsuite
To add LinkedIn as a social media account you want to manage on Hootsuite, follow these steps:
1) Log in to your account at https://hootsuite.com/ 
2) Select the My profile icon on the bottom left of the dashboard and choose to Manage accounts and teams.
3) Now, click on +Private account near the bottom of your page.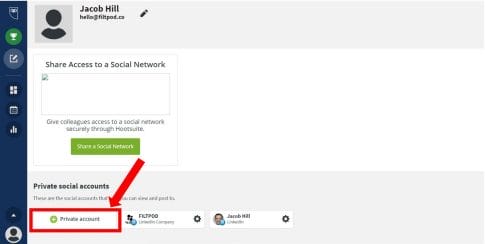 4) Select LinkedIn to add to Hootsuite from the pop-up menu.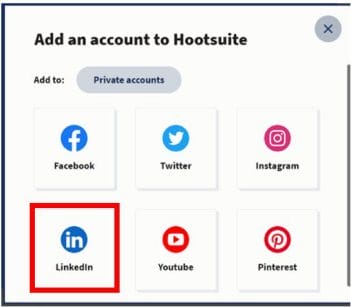 5) Key in your LinkedIn credentials (email and password).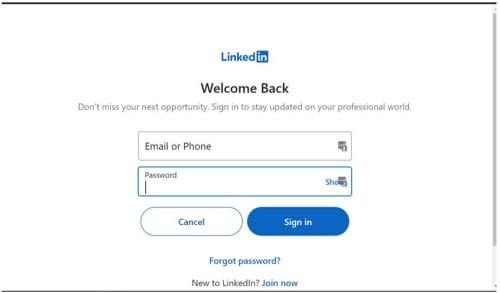 6) For LinkedIn, Hootsuite provides the option of adding your profile or company page. Hootsuite no longer supports posting to LinkedIn groups.
7) Click the Add button beside the profile or page you want to include in Hootsuite and close the pop-up menu by clicking Done.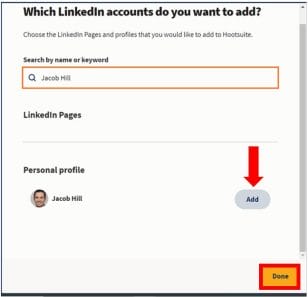 Alternatively, you can:
1) Click on the Add a Social Network button on the top bar of the dashboard.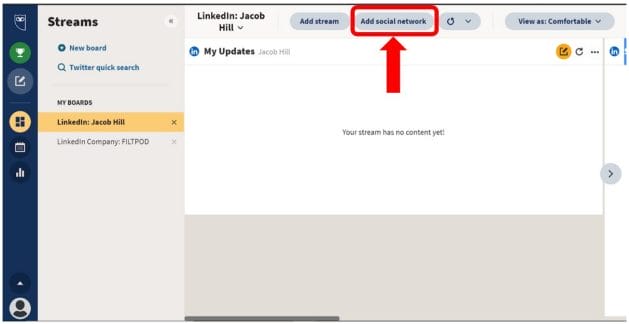 2) Select LinkedIn to add to Hootsuite from the pop-up menu.
3) Key in your LinkedIn credentials (email and password).
4) Add your profile or company page.
5) Click the Add button beside the profile or page you want to include in Hootsuite and close the pop-up menu by clicking Done.
And there you have it! Once you've set up the pages and profiles you want to monitor, you can go on to adding streams by clicking on Add A Stream on the top bar of the dashboard.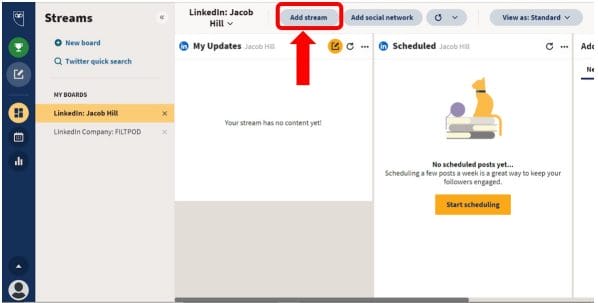 Adding a stream in Hootsuite allows you to manage all updates (comments and views) and scheduled posts all in one place. Click on the + icon beside the stream you want to add to your dashboard.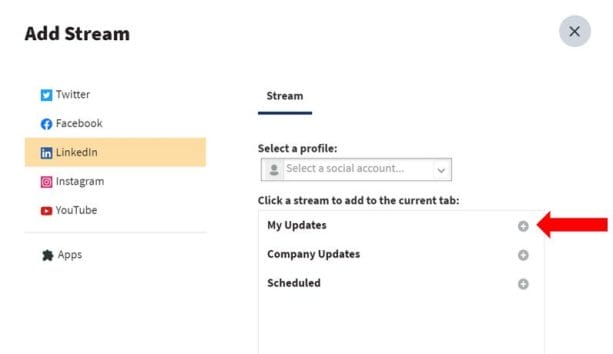 Hootsuite LinkedIn is greyed out/can't connect to LinkedIn
If Hootsuite doesn't connect to LinkedIn, try these solutions:
1) Try logging out of your LinkedIn account before attempting to connect Hootsuite with LinkedIn.
2) Check if you're the Super admin of the LinkedIn page or profile.

3) LinkedIn tokens expire after a year for security reasons. Reconnect Hootsuite to LinkedIn once you've gotten a new token.
Hootsuite LinkedIn Scheduling
Don't let your LinkedIn presence stagnate with a shortage of content. Instead, schedule it ahead in bulk, automatically or manually on Hootsuite to stay active and relevant!
To schedule your posts on Linkedin, follow these steps:
1) Click on the Publisher icon.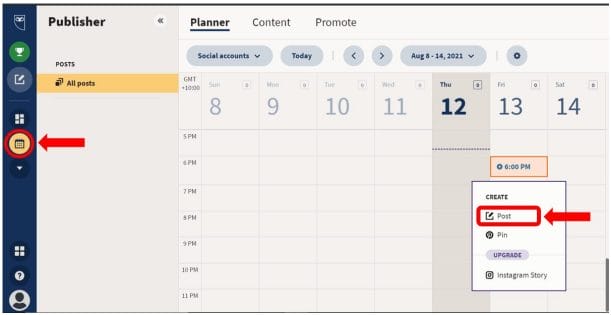 2) You will see a content planner/calendar; find and click the day and time you want your post to go live. Then, choose to create a post.
3) A pop-up menu should appear. First, choose the social account you want to make a post on. Then, proceed to write and paste your post content into the text section.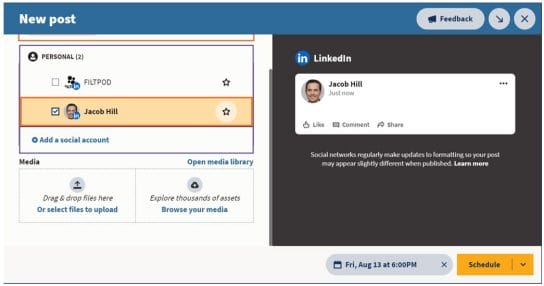 4) You can add videos or images in the media section. Here's what you should know about the file size limits:
Image file size limit: 5 MB
Video file size limit: 512 MB
5) You can change the posting schedule by clicking on the date you had initially set.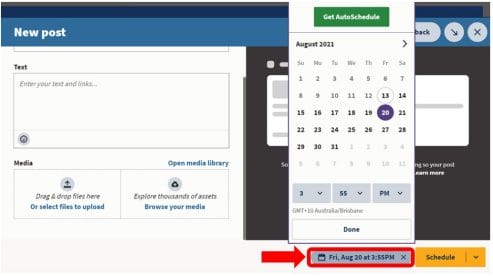 6) You can access a drop-down menu beside the Schedule button, which allows you to save drafts. The schedule and reuse accounts option allows you to schedule numerous posts without having to leave the page. The schedule and duplicate option allows you to write a post and reuse the same one later.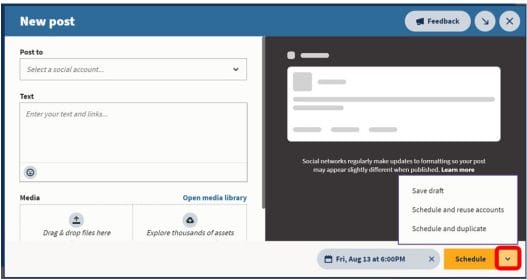 6) If the options in the drop-down menu do not apply, and you've made all the necessary changes to your post, click the Schedule button.
Hootsuite LinkedIn Analytics
In addition to scheduling posts on LinkedIn, you can also view the analytic reports of your LinkedIn personal or business account using Hootsuite's dashboard. The analytic reports include the following metrics:
Follower Growth
Number of Impressions
Engagement Levels of Posts
You can locate the report in the Analytics dashboard in Hootsuite.
The performance data provided by the Hootsuite dashboard helps you optimize your LinkedIn content to reach more people, generate a larger audience base and improve your social ranking. With the combination of analytics (for content optimisation) and a partnership marketing platform (for content distribution), you won't have to watch your content sink without getting the impressions and engagement it deserves.
Hootsuite: Social Media Monitoring
Social Media Monitoring is an essential part of content marketing. It can help you pick up on every piece of news or public opinion about your brand, product and company's services.
The streams you've added to the dashboard, even your analytics report, give you the ability to track positive and negative brand mentions on LinkedIn. This tracking tool is highly useful and enables you to get involved with your target audience in a timely, targeted, relevant, and engaging way.
Conclusion
Managing your LinkedIn presence doesn't have to be a struggle. With the right tools from Hootsuite, you'll never miss another opportunity for engagement and connection with potential customers or prospects.
Hootsuite will help you schedule posts in bulk, automatically or manually, as well as provide analytics reports that give you key insights into how your content is performing on LinkedIn. You can also monitor mentions of your brand directly through Hootsuite's social media monitoring feature – all in one convenient space!
Want to see how Hootsuite works, live? You can watch the video below: