You've probably seen them before — people using emojis on LinkedIn. And you may have wondered, are they seriously trying to make a professional first impression using a cartoon eggplant or smiley face? 
As it turns out, those people might be on to something. In today's business world, building relationships is more important than ever. And one of the best ways to build rapport and establish trust is through the use of emojis.
Here's why you should consider using emojis on LinkedIn and how to use them strategically.
If you're an emoji fan and are simply looking for a guide on how you can add emojis to LinkedIn posts, profiles and messages, click the button below:
Is It Good To Use LinkedIn Emojis?
Did you know "Word of the Year" is a thing?
Oxford Dictionaries created this tradition back in 2004 as a way to reflect on the ever-changing English language.
And here comes a fun fact:
In 2015, the nominated Word of the Year wasn't a word at all. It's this thing here:
So why the sudden obsession with these tiny little pictures?
What made Oxford name the Face with Tears of Joy emoticon, Word of the Year?
Well, here's what they had to say:
Emojis have become so widespread that even the most conservative of businesses are starting to see the value in using them.
On LinkedIn, adding an emoji boosts engagement. Here are 4 reasons why:
A picture is worth a thousand words.
Sometimes, words just aren't enough. That's where emojis come in handy.
A well-placed and relevant emoji can communicate complex emotions and feelings better than words alone.
One of the most important things in communication is being able to discern tone. When you're reading an email or text message, you can't see the sender's facial expressions or hear the inflection in their voice.
As a result, it can be easy to misread someone's tone. Was that sarcasm? Irritation? Humour? It's often hard to tell.
But when you add an emoji to your message, you can communicate your tone more effectively.
Emojis humanise your brand and company.
People want to work with companies and individuals they feel they can relate to — not faceless corporations that seem out of touch with the human experience.
So, by adding an emoji or two (or three!), you're making it easier for people to connect with you and your company on a personal level.
Emojis can help you stand out from the competition.
In the digital space where everyone is vying for attention, anything you can do to make your communication more visually engaging will help you stand out from the crowd.
And since most people still don't use emojis in their LinkedIn communications, simply using them sparingly can make a big impact.
No matter what industry you're in, LinkedIn is still a networking site. And as with any networking situation, you want to come across as personable and relatable.
Emojis can help you do just that by adding personality to your posts, profile and messages.
Striking a balance is key — too many emojis can come across as unprofessional, but a few strategically placed ones can make all the difference.
How To Add Emojis on LinkedIn
Now that we've established that emojis can be a valuable addition to your LinkedIn strategy, let's take a look at how you can use them.
How To Add Emojis to LinkedIn Post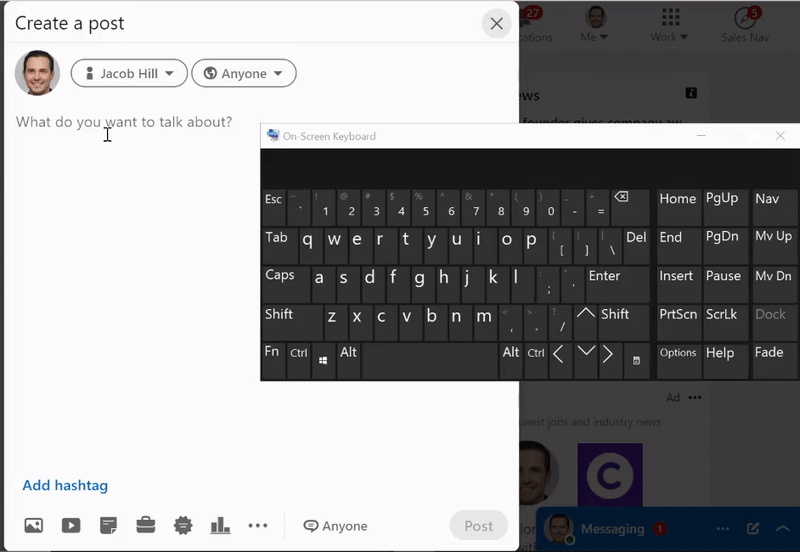 1. Go to your News Feed.
2. Create a new post.
3. Bring up the Emoji Keyboard.
PC Hotkeys:

Windows

+

;

OR

Windows

+

.

Mac Hotkeys:

Contro

l +

Command

+

Spacebar
4. As you write your post, add relevant emoticons sparingly.
How To Add an Emoji to Your LinkedIn Name
1. Click on your LinkedIn Profile page.
2. Select Edit Intro.
3. Bring up the Emoji Keyboard. 
4. Now, add the emoji that reflects your personality or the message you want to communicate in your name.
How To Add Emoji to LinkedIn Profile (Summary, Description, Job Titles, etc.)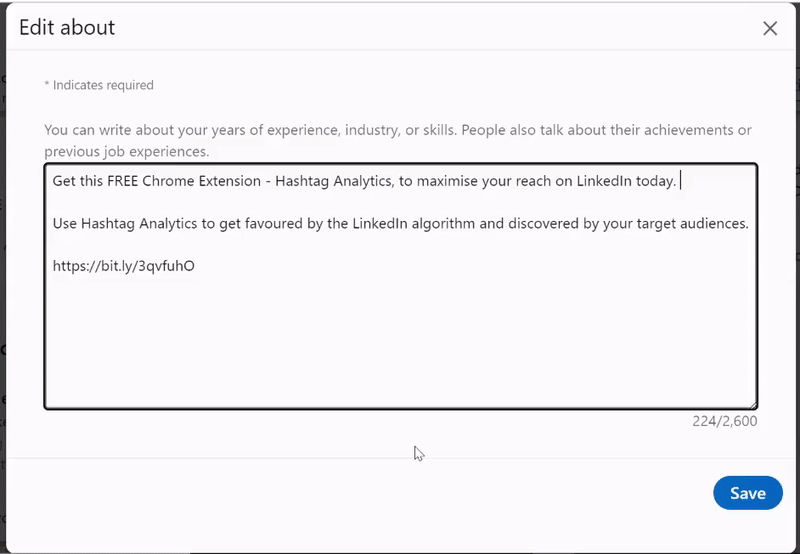 1. Click on your LinkedIn Profile page.
2. Select any section within your profile.
3. Bring up the Emoji Keyboard.
4. Add your preferred emoji.
How To Add Emoji to LinkedIn Messages or Comments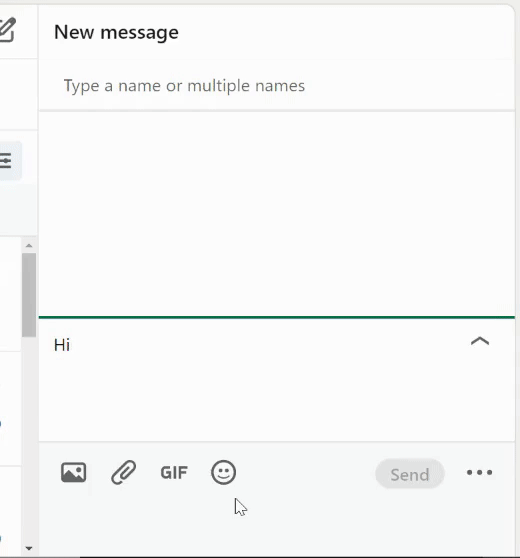 You can use the available LinkedIn emoji keyboard below the message bar. Click on the smiley face icon to open up the keyboard, then select your desired emoji.
Alternatively, just hit the standard Emoji Keyboard Hotkeys like you would for other communications on LinkedIn. That's…
Windows key + Semicolon key *or* Windows key + Period key for PC.
Control key + Command key + Spacebar for Mac.
If, for some reason, the hotkeys don't work for you, we have a comprehensive list of emojis you can copy and paste into any of your messages.
😀😁😂😃😄😅😆😉😊😋😎😍😘😗😙😚🙂🤗😇🤔😐😑😶🙄😏😣😥😮🤐😯😪😫😴😌🤓😛😜😝🙁😒😓😔😕😖🙃😷🤒🤕🤑😲😞😟😤😢😭😦😧😨😩😬😰😱😳😵😡😠😈👿👹👺💀👻👽👾🤖💩😺😸😹😻😼😽🙀😿😾🙈🙉🙊👦👧👨👩👴👵👶👱👮👲👳👷👸💂🕵🎅👼👯💆💇👰🙍🙎🙅🙆💁🙋🙇🙌🙏🗣👤👥🚶🏃💃🕴👫👬👭💏💑👪💪👈👉☝👆🖕👇✌🤞🖖🤘🖐✊✋👊👌👍👎👋👏👐💅👂👃👣👀👁👅👄💋💘❤💓💔💕💖💗💙💚💛💜💝💞💟💌💤💢💣💥💦💨💫💬🗨🗯💭🕳👓🕶👔👕👖👗👘👙👚👛👜👝🛍🎒👞👟👠👡👢👑👒🎩🎓📿💄💍💎
📢📣📯🔔🔕🎼🎵🎶🎙🎚🎛🎤🎧🎷🎸🎹🎺🎻📻📱📲☎📞📟📠🔋🔌💻🖥🖨⌨🖱🖲💽💾💿📀🎥🎬📽📺📷📸📹📼🔍🔎🔬🔭📡🕯💡🔦🏮📔📕📖📗📘📙📚📓📒📃📜📄📰🗞📑🔖💰💴💵💶💷💸💳💹📤📥📦📫📪📬📭📮🗳✏✒🖋🖊🖌🖍📝💼📁📂🗂📅📆🗒🗓📇📈📉📊📋📌📍📎🖇📏📐🗃🗄🗑🔒🔓🔏🔐🔑🗝🔨🛠🔧🔩🗜🔗💉💊🗡🔪🔫🛡🏹🚬🗿🛢🔮
🐵🐒🐶🐕🐩🐺🐱🐈🦁🐯🐆🐴🐎🦄🐮🐂🐃🐄🐷🐖🐗🐽🐏🐑🐐🐪🐫🐘🐭🐁🐀🐹🐰🐇🐿🐻🐨🐼🐾🦃🐔🐓🐣🐥🐤🐦🐧🕊🐸🐊🐢🐍🐲🐉🐳🐋🐬🐟🐠🐡🐙🐚🦀🐌🐛🐜🐝🐞🕷🕸🦂💐🌸💮🏵🌹🌺🌻🌼🌷🌱🌲🌳🌴🌵🌾🌿🍀🍁🍂🍃🍇🍈🍉🍊🍋🍌🍍🍎🍏🍐🍑🍒🍓🍅🍆🌽🌶🍄🌰🍞🧀🍖🍗🍔🍟🍕🌭🌮🌯🍿🍲🍱🍘🍙🍚🍛🍜🍝🍠🍢🍣🍤🍥🍡🍦🍧🍨🍩🍪🎂🍰🍫🍬🍭🍮🍯🍼☕🍵🍶🍾🍷🍸🍹🍺🍻🍽🍴🍳🏺
🌍🌎🌏🌐🗺🏔🌋🗻🏕🏖🏜🏝🏞🏟🏛🏗🏘🏙🏚🏠🏡⛪🕋🕌🕍🏢🏣🏤🏥🏦🏨🏩🏪🏫🏬🏭🏯🏰💒🗼🗽🗾⛲⛺🌁🌃🌄🌅🌆🌇🌉♨🌌🎠🎡🎢💈🎪🎭🖼🎨🎰🚂🚃🚄🚅🚆🚇🚈🚉🚊🚝🚞🚋🚌🚍🚎🚏🚐🚑🚒🚓🚔🚕🚖🚗🚘🚙🚚🚛🚜🚲⛽🛣🛤🚨🚥🚦🚧⛵🚣🚤🛳🛥🚢✈🛩🛫🛬💺🚁🚟🚠🚡🚀🛰🛎🚪🛌🛏🛋🚽🚿🛀🛁⏳⌚⏰🕰🕛🕧🕐🕜🕑🕝🕒🕞🕓🕟🕔🕠🕕🕡🕖🕢🕗🕣🕘🕤🕙🕥🕚🕦🌑🌒🌓🌔🌕🌖🌗🌘🌙🌚🌛🌜🌡☀🌝🌞🌟🌠☁⛅🌤🌥🌦🌧🌨🌩🌪🌫🌬🌀🌈🌂☔❄⛄🔥💧🌊🎃🎄🎆🎇✨🎈🎉🎊🎋🎌🎍🎎🎏🎐🎑🎀🎁🎖🎗🎞🎟🎫🏷⚽⚾🏀🏈🏉🎾🎱🎳⛳🏌🎣🎽🎿🏂🏄🏇🏊🏋🚴🚵🏎🏍🏅🏆🏏🏐🏑🏒🏓🏸🎯🎮🕹🎲🃏🀄🎴
🏁🏳🏴🚩🏧🚮🚰🚹🚺🚻🚼🚾🛂🛃🛄🛅🚸⛔🚫🚳🚭🚯🚱🚷☢☣🛐⚛📛🔰🔱〽✳✴❇💱💲❓〰⏭⏯⏮⏸⏹⏺⏏🎦🔅🔆📶📵📳📴🔟💯🔞🔠🔡🔢🔣🔤🅰🆎🅱🆑🆒🆓🆔🆕🆖🅾🆗🅿🆘🆙🆚🈁🈂🈷🈶🈯🉐🈹🈚🈲🉑🈸🈴🈳㊗㊙🈺🈵💠🔘
Emojis have become increasingly commonplace in professional contexts — including on LinkedIn. When used strategically, LinkedIn emoticons can help you add personality to your company's profile, make your posts more eye-catching, and increase engagement rates with other users. Just remember not to overdo it — a few well-placed emojis will suffice.
Have fun!
🚀 Skyrocket Your Business Growth