LinkedIn Dark Mode is now available to the LinkedIn community. Read this post to find out how to enable it on PC and mobile.
What is Dark Mode?
Dark Mode is a feature that allows applications and programs to display their content in a darker interface. Some people refer to dark mode as "black mode" or "night mode".
Benefits of Dark Mode
1) Dark Mode helps with eye strain.
Eye strain is a common issue for people who work on computers all day. The blue light from screens can cause your eyes to become dry and tired, which leads to headaches or blurred vision.
Dark Mode is an easy way to reduce the amount of blue light exposure. The bright interface of light mode can damage your eyes in the long run, so using Dark Mode is recommended.
2) Dark Mode helps save battery life on laptops and other devices.
While lowering the screen brightness can help save some battery power, an easy way to do this is by enabling dark mode.
3) Dark Mode is a great choice for reading since it's easier on the eyes.
An increasing number of businesses, entrepreneurs, recruiters and even job seekers view LinkedIn as an opportunity to display their thought leadership.
How? Via content creation, of course!
Writing posts on LinkedIn largely boosts visibility, so active LinkedIn users tend to share great insights with their connections, followers and prospects.
That being said, all of this content would be easier to read with the addition of Dark Mode. In addition, this mode will make it easier for you to focus on what you're reading.
Does LinkedIn Have a Dark Mode?
Yes, LinkedIn has finally joined the dark mode bandwagon.
How Do I Put LinkedIn in Dark Mode?
To switch to dark mode, see the following steps.
Steps for PC users:
Click the Me icon located on the top navigation bar.
Select Settings & Privacy.
Select Display under Account Preferences.
Click Change next to Dark Mode.
Select Dark Mode. If your device is in dark mode by default, select device setting.
Steps for mobile users:
Tap on your profile image, then Settings.
Select Account Preferences.
Under Display, choose Dark Mode.
From the three choices available, select Dark Mode. If your device is in dark mode by default, select device setting.
The dark mode feature is not available to all regions yet, so you can use this awesome LinkedIn Dark Mode tool (that's free to use!) from the Chrome Web Store for the time being.
No sign-ups are required. Once you've downloaded it, the extension will instantly make the switch from light to dark mode whenever you're on LinkedIn.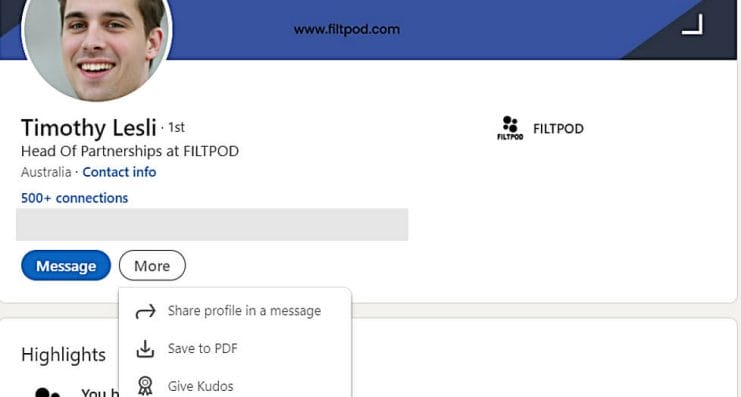 Bonus Toolkit
Google Chrome extensions are amazing little widgets that improve your browsing experience. Most importantly, it spares you a lot of time and energy by doing the manual work.
Besides the LinkedIn Dark Mode Tool, here are some of our favourite Chrome extensions that can help busy entrepreneurs stay productive and even step up their game!
Always digging up old emails for your signature or scouring all over your work channels for paragraphs of text to reuse? Save snippets of text that you frequently use and create /shortcuts with Text Blaze.
Do the links you post on social media or send to prospects look unprofessional and disorderly? Shorten and tidy them up with Bit.ly.
Frequently hunting for the best hashtags on LinkedIn? Don't know what works and want to see why people on your feed use certain hashtags? Boost your LinkedIn content by uncovering and using the best LinkedIn hashtags with LinkedIn Hashtag Analytics.
Final Thoughts
With more and more people crowding to social media to market their brand and business, it's no surprise that LinkedIn also wants to jump into the Dark Mode bandwagon.
Like other social network platforms, LinkedIn is constantly looking to improve its user experience.
There are numerous advantages to using Dark Mode – eye strain, battery life, and improved readability. LinkedIn Dark Mode is an elegant solution for most problems you might have while using a computer screen.