LinkedIn has been around since 2003 and has grown into an essential part of the social media landscape. The social network is a place where professionals can connect, network, and find new opportunities.
But did you know that there are other ways to use LinkedIn besides just connecting with people? I've used the free version of LinkedIn for decades and have found that some things are missing from their premium service.
In this post, we will answer some of your burning questions about LinkedIn Premium and look at what is available in the paid-for version. We will also help you see if you should upgrade to the premium account.
Is LinkedIn Premium Worth It for Recruiters?
If you're looking to build up your profile as a recruiter or HR professional, then a LinkedIn premium plan may be right for you.
You'll get access to more features than the basic membership, which include:
Advanced search options 

More advanced analytics tools

 
A recruiter's job involves finding candidates who match specific criteria. This means having all relevant information about them readily accessible on LinkedIn makes sense.
The ability to create customized searches based on skills, experience, location, etc., gives you greater control over how you target potential hires. You could even set up alerts so you receive updates when someone matches specific keywords.
For example, let's say you want to hire a candidate who lives within 10 miles of London. You'd need to enter "London" plus every city name under the sun with the standard search option. But by creating a custom search, you can narrow down the results to only those living near London.
This process would save time and money because you wouldn't waste resources searching for candidates outside of the area you require.
It's important to note that while these additional features do make life easier for recruiters, they aren't necessary for everyone. If you don't regularly conduct searches like this, then maybe you shouldn't become a premium user.
Is LinkedIn Premium a Waste of Money?
To answer this question, we need first to understand why companies offer different levels of services. The main reason behind providing multiple plans is to cater to varying needs. Some businesses might not need special features, but others might benefit significantly from LinkedIn's premium features.
So whether you think you need the full suite of features offered by LinkedIn premium or not, here are three reasons why you should consider upgrading.
You can find out who is looking at your profile.

You have access to advanced metrics. 

You get the LinkedIn Premium badge. 
Let's take a closer look at each one of these benefits.
Finding Who Is Looking At Your Profile
One thing many business owners struggle with is knowing who is viewing their profiles. They often wonder if anyone is interested in working with them or hiring them.
With LinkedIn Premium, you can view detailed reports showing who viewed your profile and when. These insights give you valuable data regarding potential clients and allow you to better tailor your content to suit their interests. Or you could get proactive and reach out to them. But you can only do these things if you know who is looking at your profile in the first place. 
Advanced Analytics Tools
LinkedIn Premium can help you gain an edge over other professionals. For instance, if you're applying for a job, you can use its advanced analytics tool to see who else has applied for the same position. Applicant Insight also helps you find out how many people have also applied for the job, their skillset, and whether or not you can beat them with your qualifications. 
Get the LinkedIn Premium Badge
If you've been using LinkedIn long enough, chances are you already know what the LinkedIn Premium badge looks like. It shows users that you belong to the elite group of members who have upgraded to LinkedIn Premium. This means more exposure for your brand and increased visibility among your network. And one more thing; people take you more seriously when you have the badge. You have no idea the difference it makes if you don't have the LinkedIn Premium badge. 
Will LinkedIn Premium Get Me a Job?
The answer to this question depends on various factors. If you're a job seeker wondering if having LinkedIn Premium will get you a job, then of course not. However, if you're a job seeker wondering if LinkedIn Premium can help you land one, then you're right.
Many people trying to land a great job struggle with getting noticed by hiring managers. This is especially true for those who work remotely or freelance. Generally speaking, if you want to stand out among all the others applying for jobs online, here are five tips to improve your chances of getting hired.
1) Create a compelling resume
2) Get involved in local communities
3) Build relationships with potential employers
4) Use video interviews
5) Be persistent
How does LinkedIn Premium help?
LinkedIn is full of potential hiring managers, so they'll be able to spot you from miles away if you have a good profile. There are various communities on the platform, so you should join some of them as well. By joining groups related to your industry, you'll be able to connect with companies directly. Finally, make sure you build strong connections with recruiters and HR representatives because they may end up being your future employer.
So yes, LinkedIn Premium can get you a job, but there are still plenty of ways to go about doing so. 
Can I Cancel LinkedIn Premium After a Free Trial?
Yes! You can always go back to the free tier once you decide whether or not you'd prefer to pay for the complete package.
An amazing LinkedIn copy deserves an audience.
Supercharge your copy with the best hashtags.
Which LinkedIn Premium is Best?
It depends on your use case and what you intend to do on the platform.
LinkedIn Premium offers four different plans.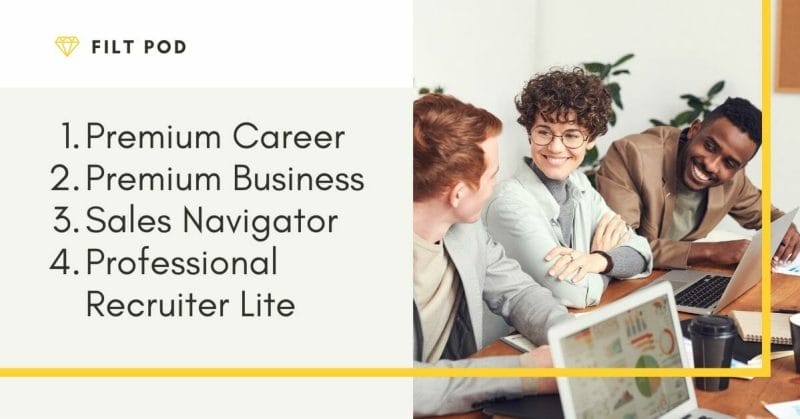 Each plan comes with varying features depending on which version you choose.
LinkedIn Premium Career targets people who are looking for jobs and are willing to spend some money on additional features. Basic Premium Career plan features include:
5 InMail messages (InMail messages mean you can reach out to any LinkedIn user; no connection request needed)

Applicant Insight

Top Applicant Job recommendations and more information on posted jobs

LinkedIn Salary (bonus feature for all premium plans)

LinkedIn Learning (bonus feature for all premium plans)
LinkedIn Premium Business gives you 15 InMail messages, advanced search filters, unlimited searches, and more company data.
Sales Navigator Professional gives 20 InMail messages, advanced search filters, a lead-builder tool, and real-time information on leads.
And finally, the Recruiter Lite — the most expensive plan — gives you 30 InMail messages, powerful search tools, and other features focused primarily on recruiters.
So which LinkedIn Premium is best?
As you can tell from the different tiers, your choice depends on what you want and how much you're willing to spend.
Speaking of price, let's take a look at the prices for each plan.
How Much Does Premium LinkedIn Cost?
As already stated, LinkedIn offers four premium plans: Premium Career, Premium Business, Sales Navigator Pro, and Recruiter Lite. Each one has its own set of benefits and costs accordingly. Here's an overview of their pricing structure.

Can Premium LinkedIn See Anonymous?
A Premium LinkedIn account can help you see a list of everyone who has viewed your profile. On top of that, you also receive notifications when someone views your profile. This means that even though you don't know who this person is, you could contact them later.
However, some LinkedIn users decide to remain anonymous. In this case, you won't be able to see their names even if you have a premium plan. Of course, they also can't see people who have viewed their profiles.
Conclusion
The ultimate question still stands, "Is LinkedIn premium worth it?"
As long as you aren't planning on spending thousands of dollars every year on advertising, then yes, LinkedIn Premium is worth it. Not only will you enjoy increased visibility within your industry, but you'll also be able to take advantage of exclusive content and services that help you grow professionally.
Get More Eyes on Your LinkedIn Profile
Use this ultimate content strategy approved by LinkedIn power users.