When you recommend someone on LinkedIn, you add value to their LinkedIn profile; this allows them to market themselves better to others. In other words, LinkedIn recommendations build credibility.
Additionally, the recommendations you write are a reflection of your character. Are you able to recognise people's skills and accomplishments? Do you realise the good traits of people?
In this article, we discuss the best practices when writing a LinkedIn recommendation.
LinkedIn Recommendations: Before You Begin
When writing a LinkedIn recommendation for someone, it is best to keep in mind the following:
Keep it short, and do not overdo it with flowery language.
Keep it positive and accurate.
Be mindful of the requestor's privacy and share only those details that they want to be shared.
Keep your recommendation focused on their skills and accomplishments.
Write with a specific goal in mind. For example, are you helping the person land their next job? Or raise their credibility so more prospects will contact them?
Now that you know what factors to consider let us look at some specific LinkedIn recommendation samples.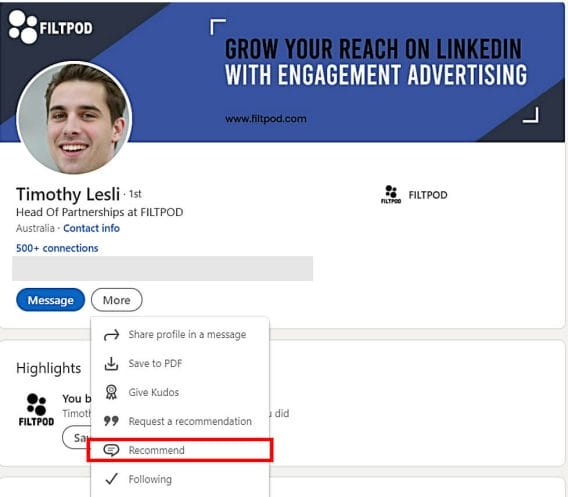 Writing LinkedIn Recommendations
A LinkedIn recommendation should contain three main parts:
1) How you know them and their positive traits
This part is very important as it is an opening to what you will write about the person. It should be written such that when read alone, your reader will have a general idea of why you are writing this particular recommendation.
You can start writing this part by following these simple steps:
Step 1: Think of one sentence that states why you are writing this recommendation.
Step 2: Write down two-three adjectives that describe the person you are recommending.
Here's an example:
"Timmy and I worked together while he was at XYZ. He's an extremely hard worker, who works well with others even in tough situations. He's a team player with a strong sense of responsibility, and I'm confident that he would be an asset to any team."
2) Their most remarkable contributions
Now that you have explained why you are writing the recommendation, it's time to write about what they did for you or your company that makes them special or outstanding in your eyes. You can achieve this using the following step:
Write about one or more experiences you have had with the person. Here's an example:
"I worked closely with Timmy on a couple of projects. He worked for a total of three months as an intern on a project to develop new products, but he was also able to show initiative in creating his own project that wasn't assigned to him. His new product idea won us the first place innovation award at our company event."
3) How do you want them to be recognised by others through your recommendation
This part is pretty straightforward. You just have to state what you believe the person deserves recognition and how they should be recognised. The outcome or result you are trying to achieve for them is that anyone who reads your recommendation will be convinced of the value the person adds to their team.
To keep your message concise, state your recognition of the person in one sentence. Here's an example:
"I highly recommend Timmy for any position that involves creativity, innovation and leadership."
The three-part structure is only a template; you can always change it up depending on the person you're recommending.
Conclusion
The bottom line is that LinkedIn recommendations are one way of showing people what you think about them. It is an opportunity for you to add value to the person's profile. A good LinkedIn recommendation should be positive, truthful and brief.
Want to know other ways to improve your LinkedIn profile? Then read the following articles to discover how to maximise:
Creating an overall amazing LinkedIn profile
Trying to get more visibility on your content but it seems like the LinkedIn algorithm is working against you? Have a read on how you can get the algorithm to boost your posts so that your content gets seen by more than just your first-level connections.