LinkedIn, the largest professional networking platform, has become a vital tool for businesses seeking to grow and expand their reach. With over 930 million users worldwide, companies need to make the most of this platform. However, managing a LinkedIn presence and generating leads can take time and effort. This is where automated tools come in, making the process faster, more efficient, and cost-effective.
Several important tools can help businesses increase their conversion rate, generate leads, and access valuable data. In this article, we will explore the benefits of these tools and how they can help you maximize your business potential on LinkedIn.
Increase your conversion rate on LinkedIn with AI tools
Engage AI is a powerful free tool that uses Generative AI to analyze content in LinkedIn posts and craft contextually relevant and natural responses.
With Engage AI, you can send personalized messages to your target audience, build relationships, and increase your conversion rate.
The tool allows you to streamline your LinkedIn engagement process, so you can save time and effort and focus on other important tasks.
With Engage AI, you can target your desired audience based on various criteria, such as job title, location, and company size, and engage the right people meaningfully.
Viral Post Generator by Taplio
Taplio and its Viral Post Generator tool are also good options because they utilize AI technology to automate and optimize various tasks, such as post-scheduling and engagement tracking. This saves time and effort for business owners and helps them reach a wider audience, leading to more leads and potential customers. The Viral Post Generator tool specifically helps to create content that is more likely to be engaged with and shared, leading to increased visibility and credibility on the platform.
Tools to Find Email Addresses and Send Messages on LinkedIn
Data scraping is the process of extracting valuable information from LinkedIn profiles and pages. One tool that can help with this is Allforleads, which offers several LinkedIn tools designed to help you find email addresses and send automated, personalized messages directly on LinkedIn.
Allforleads works like Lusha or Kaspr, where you can find email addresses and connect with potential customers and clients in a personalized way, increasing your chances of generating leads. This lead generation solution allows you to simultaneously send automated messages to multiple people, saving you time and effort. Here are two of the complete set of tools offered by Allforleads.
Find emails with a Linkedin Scraper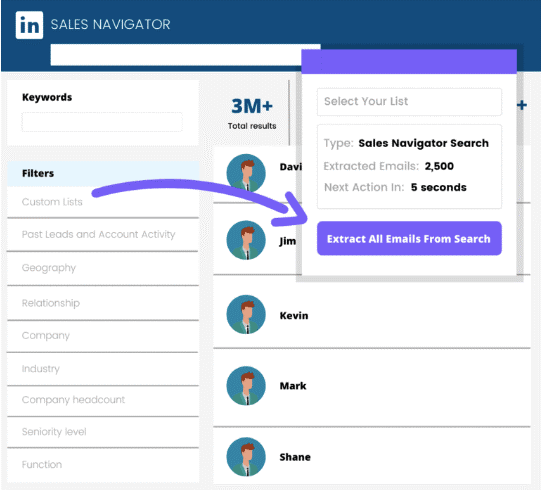 Allforleads provides a complete kit of lead generation tools, including a LinkedIn data scraper that allows you to find and extract contact information (mainly emails and phone numbers) from your LinkedIn search.
This tool saves you time and effort by streamlining the process of finding and collecting email addresses, so you can focus on other essential tasks. With this tool, you can build email lists in just a few minutes and then use these lists to send email campaigns, which can help you increase your conversion rate.
Try Allforleads for free here.
Send personalized messages on autopilot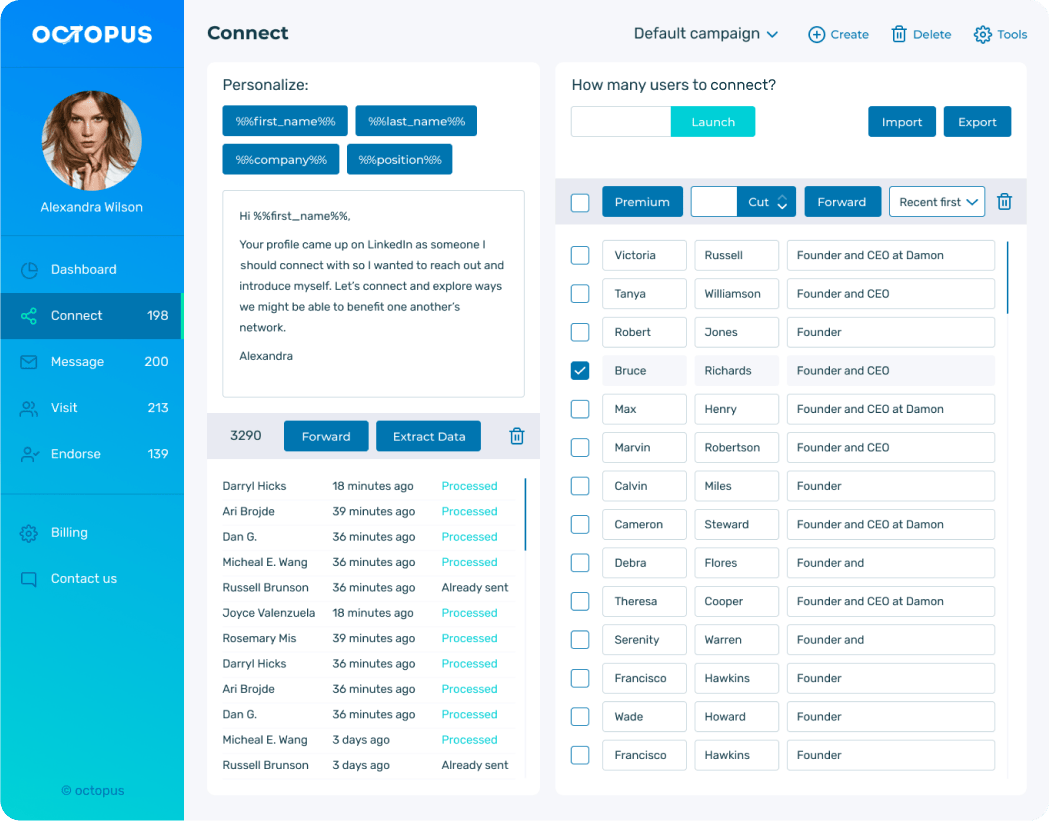 Octopus CRM is a good tool to grow business on LinkedIn because it offers features such as automated text messaging, lead generation, profile views, and analytics, which can help companies to increase their reach and engagement on the platform.
It allows users to set up targeted campaigns, track performance metrics, and manage their LinkedIn connections more efficiently, saving time and increasing productivity. Its user-friendly interface and customizable settings make it easy to use, even for those without technical expertise. 
Using artificial intelligence and automated tools is crucial to growing your business on LinkedIn due to the platform's large user base.
Tools like Engage AI and Taplio use AI technology to optimize tasks, such as personalized messaging and post-scheduling, leading to increased engagement and more potential leads.
Additionally, Allforleads and Octopus CRM offer data scraping and email automation features to streamline the lead generation process and manage LinkedIn connections more efficiently.
By incorporating these tools into your LinkedIn strategy, you can save time, effort, and money while maximizing your chances of success on the platform.